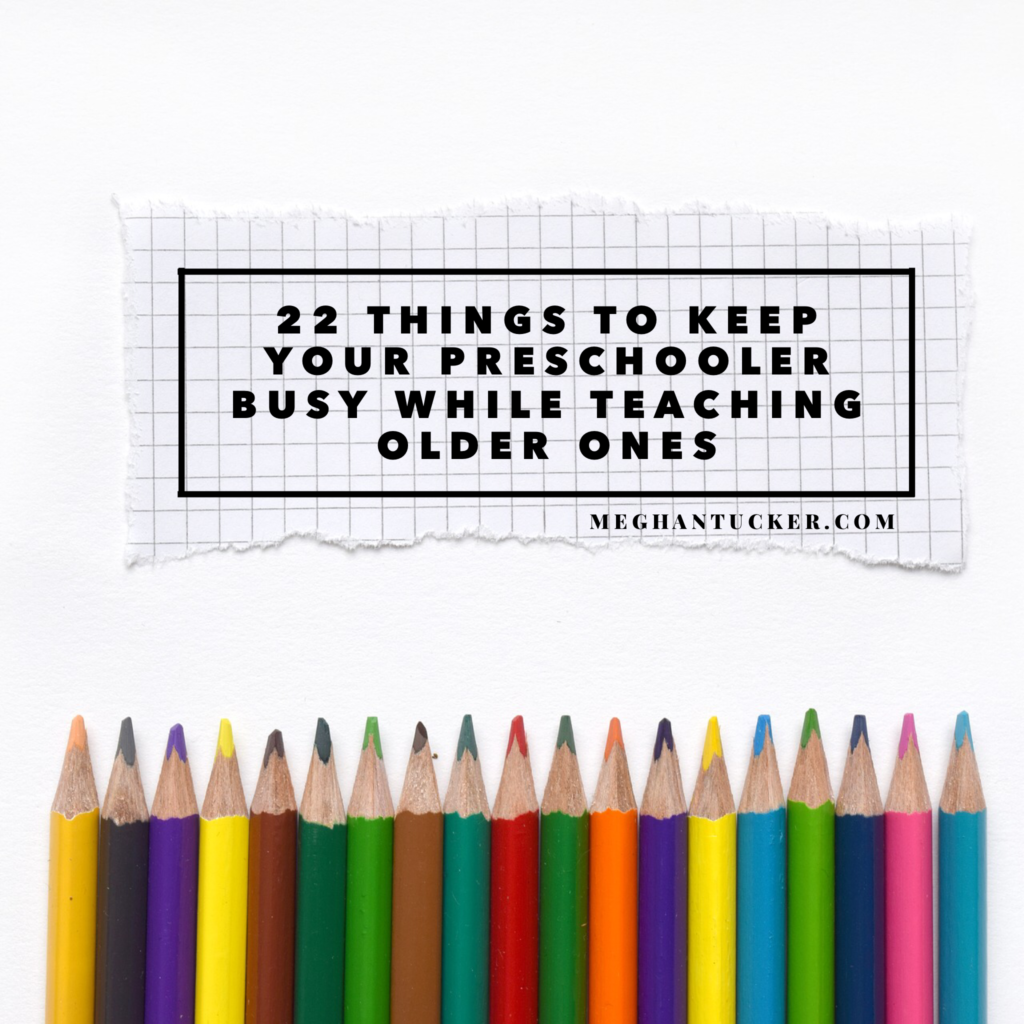 The question we hear the most when people hear that we homeschool our kids is, "What do you do to keep your preschooler busy while teaching the older ones?"
The answer? We use a lot of different things, and each day is something different. I try to keep it fun and different to where they don't get bored with the same activity. I have a schedule (because of course, that is what list-makers like myself do).
For example: Monday's they can watch a preschool show (Super Why, Word World, Sid the Science Kid, etc.) while they work on puzzles. Tuesday, they can work with busy bags, quiet bins, or workbooks. Wednesday is play-doh day. Thursday, my 4 year old has Mom's Day Out and the other boys have homeschool co-op, so we don't do any school at home that day. Friday, you can choose between preschool apps on the iPad, dry erase pockets, Hot Dots, or sorting coins and needs in the muffin pan. Here are a few of our favorite activities to do with preschool kids or toddlers.
Busy Bags, Letter Recognition, Patterns, and Quiet Bins:
Tracing Lines Busy Bag from Happy Brown House
10 Easy Busy Bag from Powerful Mothering
Colors and Patterns Busy Bag from Raising Little Super Heroes
Quiet Bins for 2 Year Olds from The Winter Lane
Popsicle Sticks Patterns from Playdough to Plato
Preschool Letter Recognition Activities from Planning Playtime
Puzzles:
Alphabet and Numbers Foam Puzzle
Melissa & Doug Farm Wooden Chunky Puzzle
Melissa & Doug Deluxe Latches Board Puzzle
Melissa & Doug Wooden Farm Jigsaw Puzzle
Other Ideas:
Reusable Dry Erase Pockets  – these are so good to use with letter, number, shape, and dot to dot worksheets.
Melissa & Doug Scissor Skills Activity Pad
Muffin Pan for sorting coins or sorting bears. (for ages 3+)
Geo Safari Jr. My First Microscope
Hot Dots Jr. Pre-K Reading Set
Kindergarten Tool Kit  – Use code THANKS10 to receive $10 off your order.
What are some of your ideas to keep your preschooler busy while the older kids work on their school work?
I have included affiliate links in this post. When you purchase through these links, I may receive a small commission. Thank you for supporting this site.