I'll admit it. I'm not a reader. One of my goals for the new year is to read more. Instead of turning on Netflix when the kids are resting in the afternoon, I'm going to pull out a book and finish it. Yes, finish it. Not start it and 3 months later pick it back up like I have been doing. A couple of these books I've read before and the rest have been given to me recently. This is what I'm Reading This Spring.
Have you read any of them?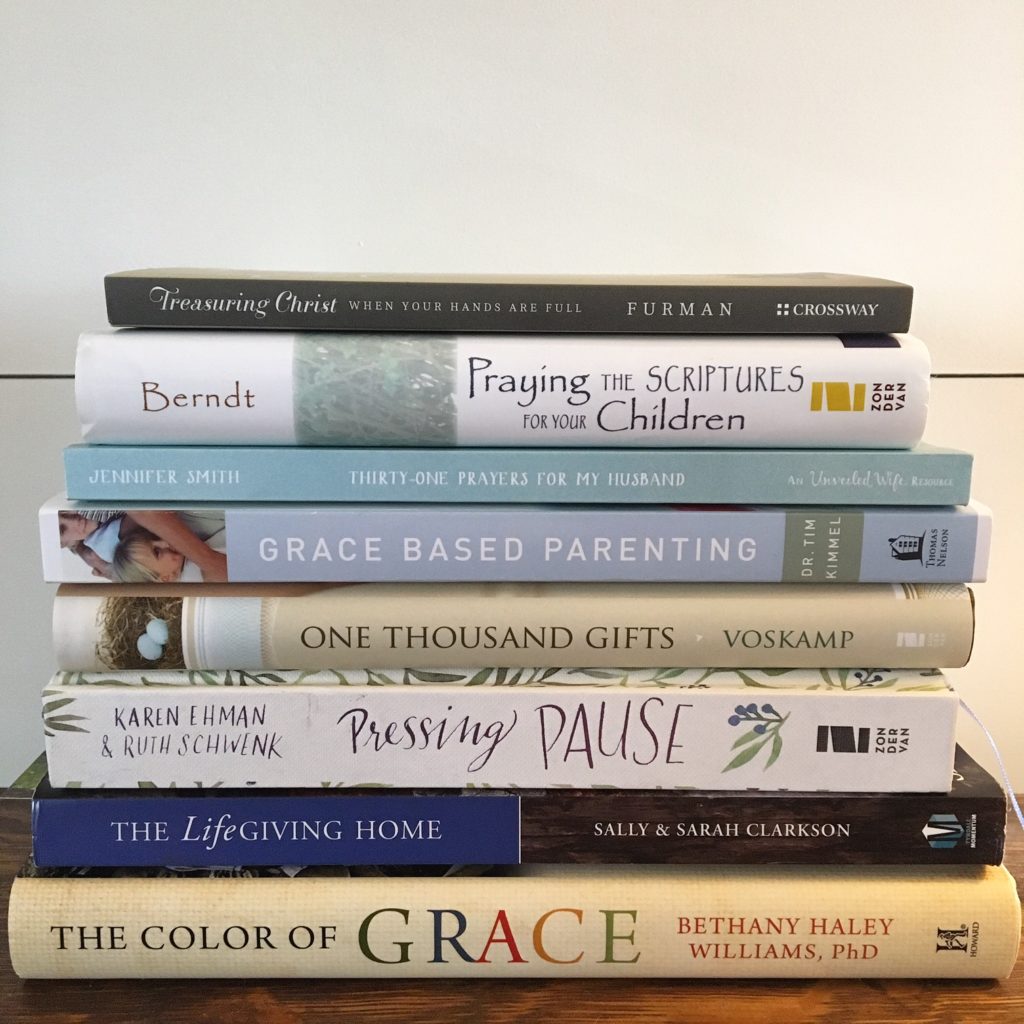 Treasuring Christ When Your Hands Are Full: Grocery shopping. Soccer practice. Dirty dishes. Motherhood is tough, and it often feels like the to-do list just gets longer and longer every day—making it hard to experience true joy in God, our children, and the gospel. In this encouraging book for frazzled moms, Gloria Furman helps us reorient our vision of motherhood around what the Bible teaches. Showing how to pursue a vibrant relationship with God—even when discouragement sets in and the laundry still needs to be washed—this book will help you treasure Christ more deeply no matter how busy you are.

Praying the Scriptures for Your Children: Jodie Berndt shows you how to make the Bible a book of prayers that can powerfully influence your children's lives. You'll discover how to pray specifically and expectantly for their faith, character, safety, relationships, and future. You'll gain new, biblical perspectives on God's purposes for your children. And through the encouragement of the Scriptures and true-life stories, you'll find out what a huge difference your prayers really make in the lives of those you love most. Discover How to Pray God's Will for Your Children's Lives There's no place like God's Word to turn to when you want to pray confidently and effectively for your kids.

31 Prayers for My Husband: Prayer is the gift God gave us to be able to have direct access to His throne room to communicate with Him. This book of 31 marriage prayers is purposed to encourage and guide you as you pray for specific aspects of your husband's life and character. My hope is that this marriage resource motivates you to intentionally pray and petition for your husband and your marriage on a daily basis through the power of prayer. There is even free writing space for you to add your own thoughts and prayers to each marriage prayer, to make them your own, and to lift up specific prayer requests your husband may have.

Grace Based Parenting: Parents in our post-modern world tend to be committed to but anxious about their child-rearing responsibilities. They've tried the countless parenting books on the market, but many of these are strident, fear-based books that loving parents instinctively reject, while still searching for direction.

One Thousand Gifts: Just like you, Ann Voskamp hungers to live her one life well. Forget the bucket lists that have us escaping our everyday lives for exotic experiences. 'How,' Ann wondered, 'do we find joy in the midst of deadlines, debt, drama, and daily duties? What does the Christ-life really look like when your days are gritty, long–and sometimes even dark? How is God even here?' In One Thousand Gifts, Ann invites you to embrace everyday blessings and embark on the transformative spiritual discipline of chronicling God's gifts. It's only in this expressing of gratitude for the life we already have, we discover the life we've always wanted…a life we can take, give thanks for, and break for others. We come to feel and know the impossible right down in our bones: we are wildly loved–by God. Let Ann's beautiful, heart-aching stories of the everyday give you a way of seeing that opens your eyes to ordinary amazing grace, a way of being present to God that makes you deeply happy, and a way of living that is finally fully alive. Come live the best dare of all!

Pressing Pause: Kids bickering? Schedule jam-packed? Dishes and laundry both piled up high? Perhaps it's time you pressed pause. Whether you're juggling a career, kids' schedules, and church commitments or you're covered in spit-up and anxious about what the next eighteen years might hold, you can carve out a few quiet moments to rejuvenate your spirit.

The Life Giving Home: How to make home your family's favorite place to be . . . all year long.
Does your home sometimes feel like just a place to eat, sleep, and change clothes on the way to the next activity? Do you long for "home" to mean more than a place where you stash your stuff? Wouldn't you love it to become a haven of warmth, rest, and joy . . . the one place where you and your family can't wait to be? There is good news waiting for you in the pages of The Lifegiving Home. Every day of your family's life can be as special and important to you as it already is to God. In this unique book designed to help your family enjoy and celebrate every month of the year together, you'll discover the secrets of a life-giving home from a mother who created one and her daughter who was raised in it: popular authors Sally and Sarah Clarkson. Together they offer a rich treasure of wise advice, spiritual principles, and practical suggestions. You'll embark on a new path to creating special memories for your children; establishing home-building and God-centered traditions; and cultivating an environment in which your family will flourish.

The Color of Grace: A middle-class woman in rural America and war-affected children in Africa find common ground in their journeys from brokenness to redemption.

Author and psychologist Bethany Haley Williams shares how her own emotional healing led her into treacherous war zones, where she provides care to former child soldiers and young girls used as sex slaves. Faced with her own battle with shame and a rocky journey toward healing, Bethany founded Exile International, a nonprofit that implements art/expressive therapy and long-term, rehabilitative care to restore and empower war-affected children—including children rescued from Joseph Kony's LRA (Lord's Resistance Army).

One of those rescued young men, Solomon, was abducted at the age of ten after being forced to watch LRA soldiers maim and murder his father and grandfather. His younger siblings were left behind, and his mother was instructed to "raise them well…for one day we'll return to take them too." Solomon is one of hundreds of thousands of boys and girls who have had their innocence stolen and are forced to do the unthinkable on a daily basis. But their horrific experiences are just the beginning. The real story is what happens after. Once these children learn to face their pasts, they are given hope for a future and a vision for changing the fabric of their countries by becoming leaders for peace and advocates of the power of forgiveness.
That should keep me busy for a while, huh? What about you – what are you reading these days? 
Related posts: