Jellystone Mammoth Cave Campground:
We recently took a trip to Mammoth Cave and wanted to go camping. There is camping inside the National Park, but there isn't water or electric, both of which we usually need to have because, well, we just like to camp that way. (I am not a fan of "roughing" it that much). I had heard Jellystone Mammoth Cave Campground was close to the park and decided to give it a try.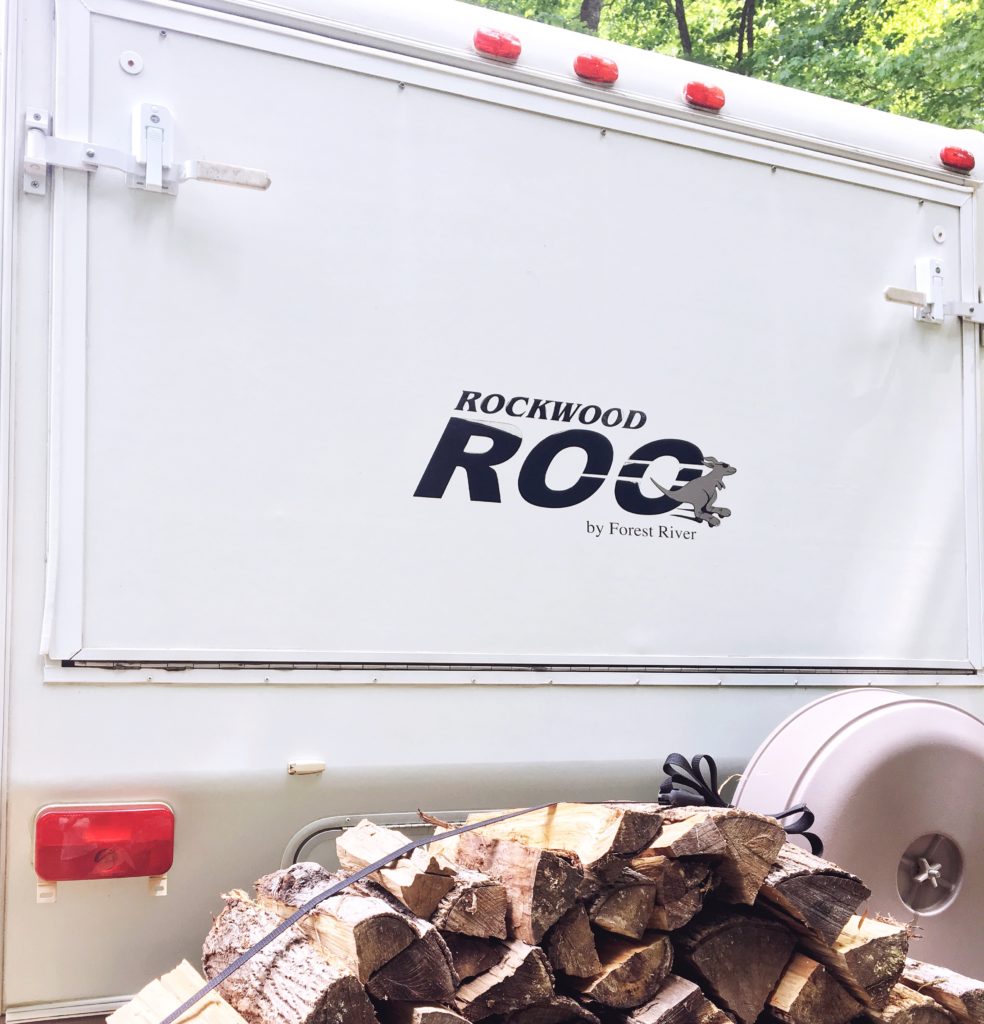 We booked our campsite a few months in advance to make sure we had a great spot. Our family always loves camping in campgrounds that are family friendly, campgrounds that have things to do for the kids, and we love campsites that are shady and have space. That feeling of being on top of the campers next to you? Yeah, we really don't like it. When booking with Jellystone, we requested one of the bigger sites with trees and shade.
When we arrived at the campground, the staff was really friendly. They were eager to help and get us situated and on our way to our campsite. We even had the chance to have a golf cart rental for the weekend to get around the campground, which was a plus. We pulled in at our campsite, and it was good on the size, but there weren't any trees. One of the biggest things my boys look forward to when we camp are trees to hang their hammocks from. This campsite didn't have trees to do that. They were bummed, so we went back to the check-in spot to try to move spots and there weren't any available. That was a total bummer for them, but we didn't let it to ruin our weekend, of course.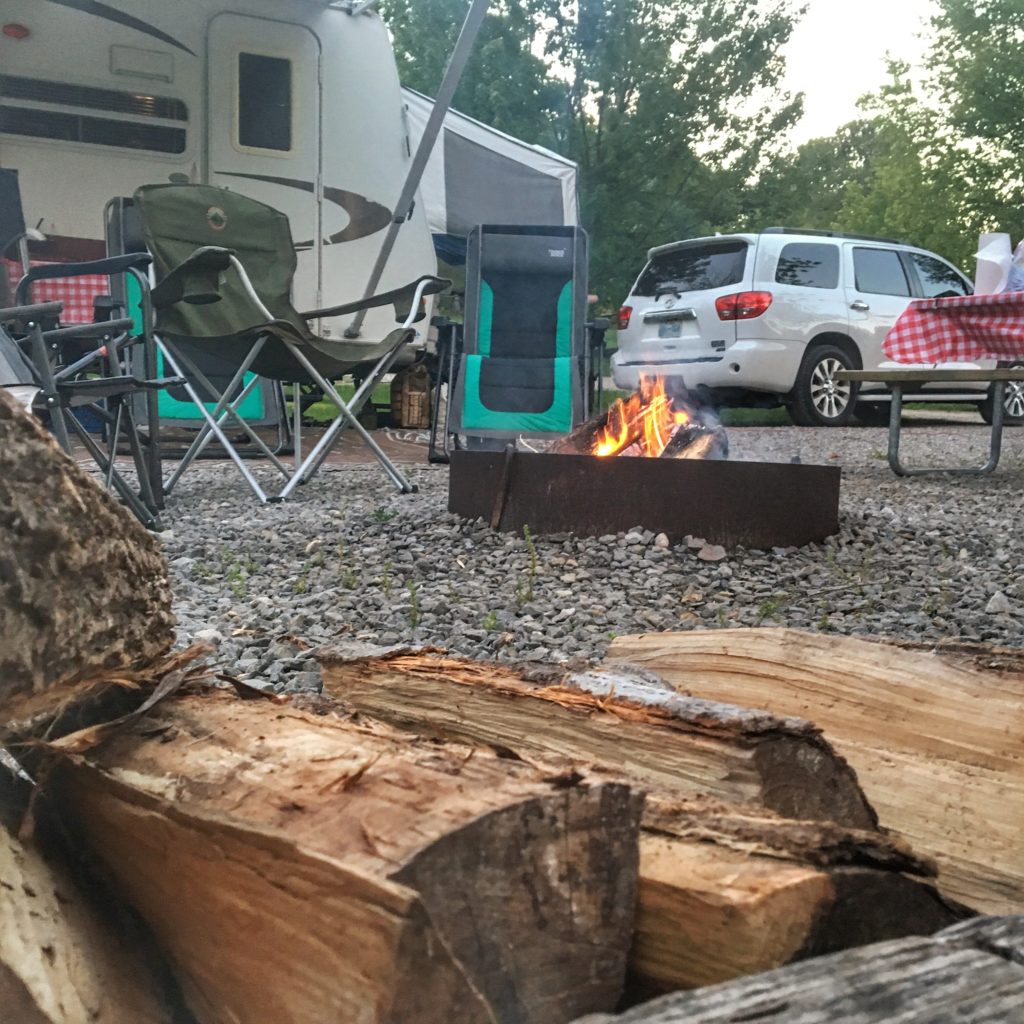 Here are the pluses and minuses to our stay at Jellystone:
PLUS:
LOTS going on all the time. Something for everyone in the family. From coloring contests, to mini golf, to Hey, Hey, Hey Rides with Yogi Bear himself, to a waterslide for the entire family, crafts, karaoke, and more.
The pool, my kids LOVED! They are still talking about how much fun they had swimming.
The FREE waffle breakfast each morning we were there.
Giant Jumping Pillow
Splash Pad
Clean bathrooms
Family friendly
Close to the national park (just 15 minutes) + 45 minutes to Bowling Green + an hour and a half to Nashville.
MINUSES: 
If you're looking for something where the campground is really pretty and the campground is going to be the sole destination, this isn't it.
All in all, we had a great weekend. It was a great place to stay outside the national park, especially if you like the amenities such as water and electric hookup at your  campsite (since the national park doesn't offer this at their campground) or you want to stay in a cabin.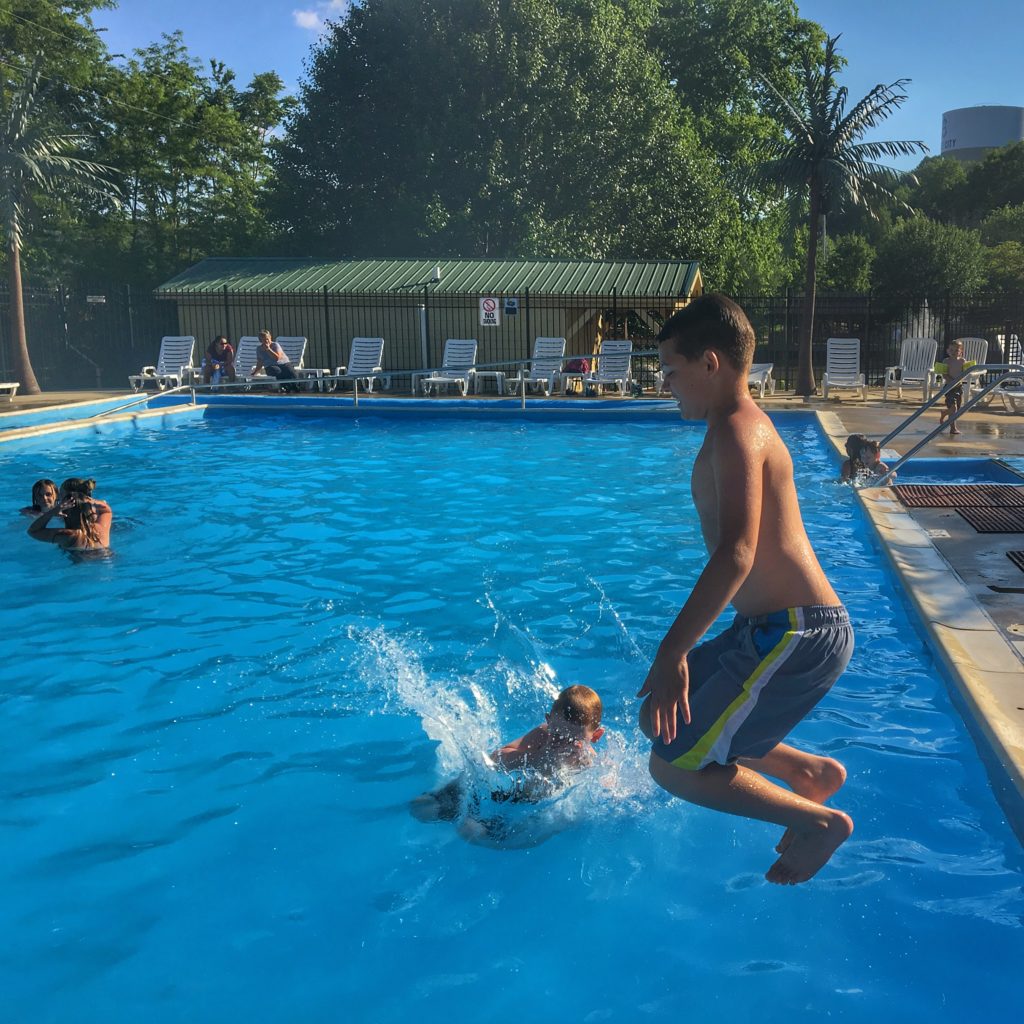 Kentucky Down Under:
There is so much to do in the Mammoth Cave area. We visited Kentucky Down Under while we were there and just loved it. While we weren't sure exactly what to expect when we visited, we really enjoyed our time there!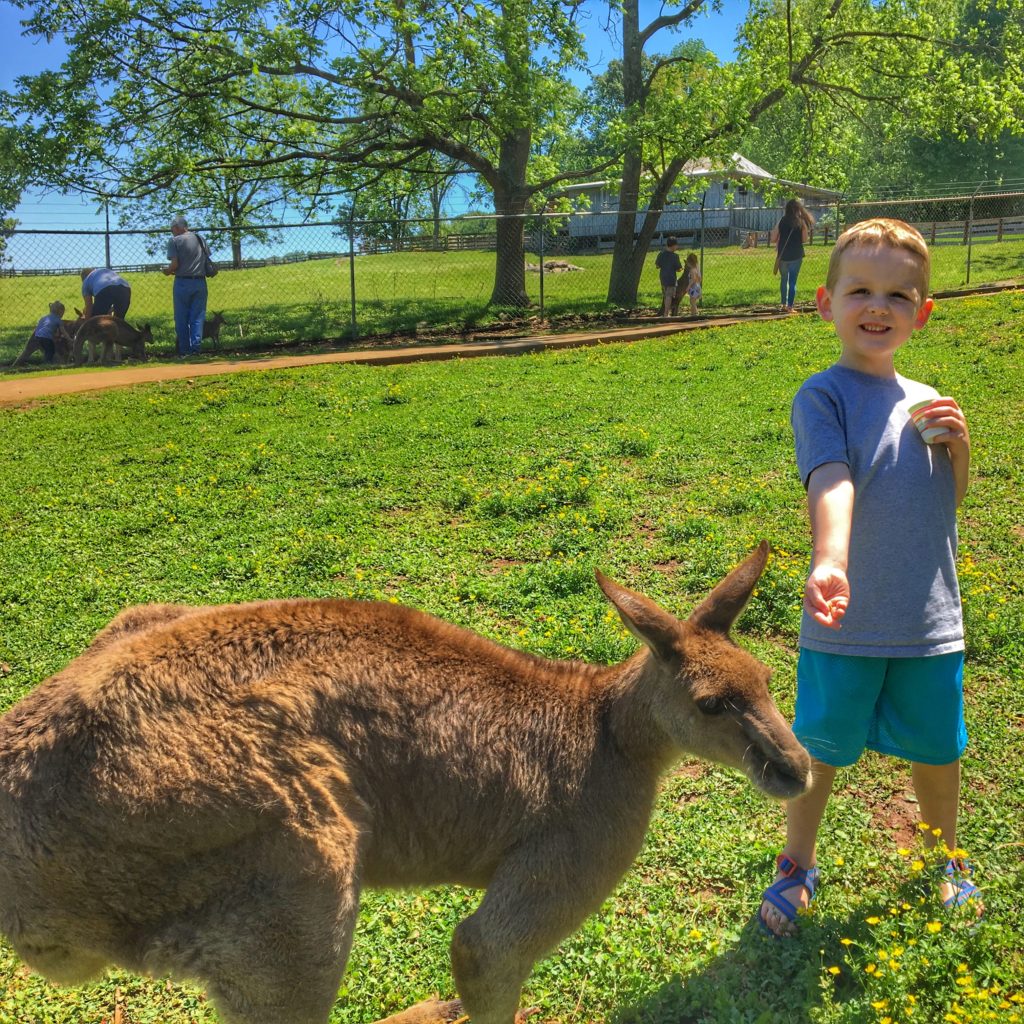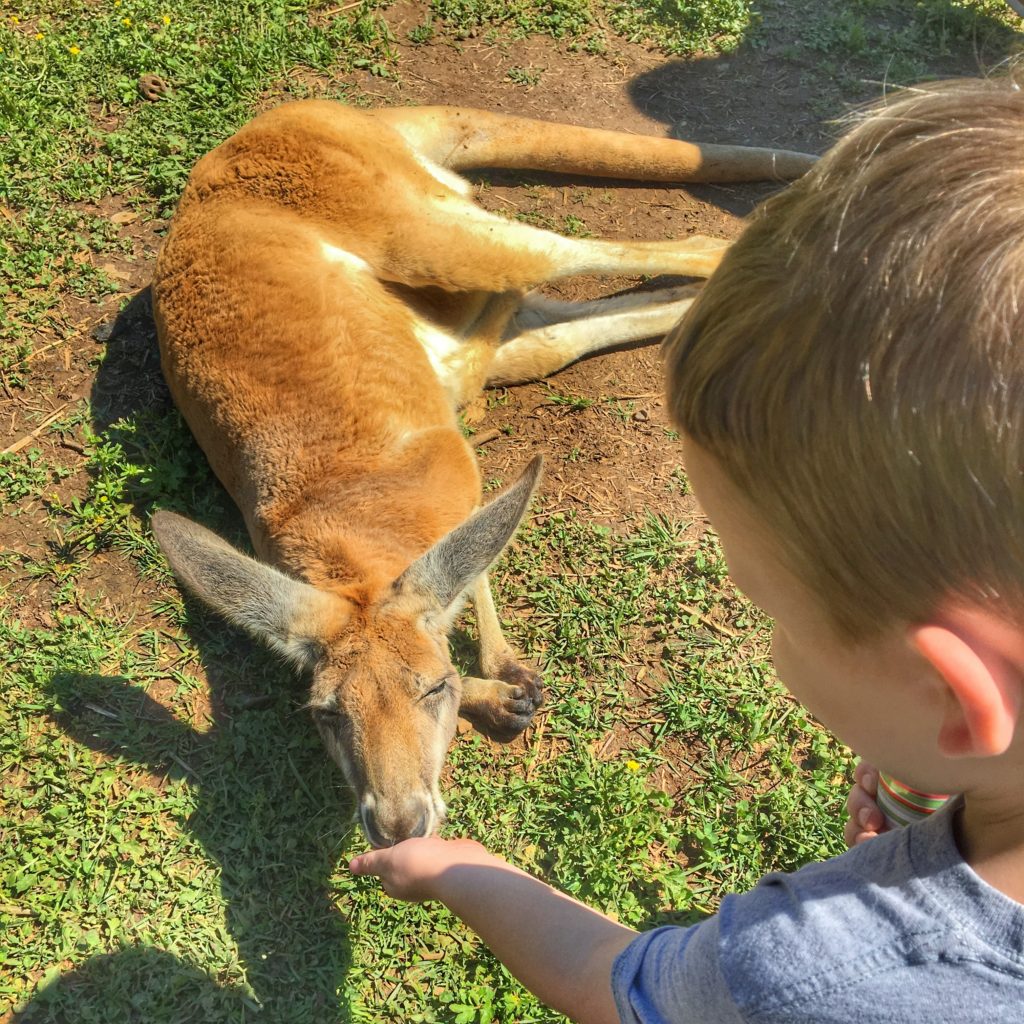 Kentucky Down Under Adventure Zoo is home to many unique animals as well as home to many animals that you may see around every day. My boys LOVED the kangaroos and birds the best. It was so neat to be able to spend a good amount of time with all the kangaroos and for them to be able to feed them. Now, the birds. I'm personally terrified of them, but these three had the best time in the "bird cage". I had the best time taking pictures of them enjoying it. Check out all the animals you'll find at Kentucky Down Under.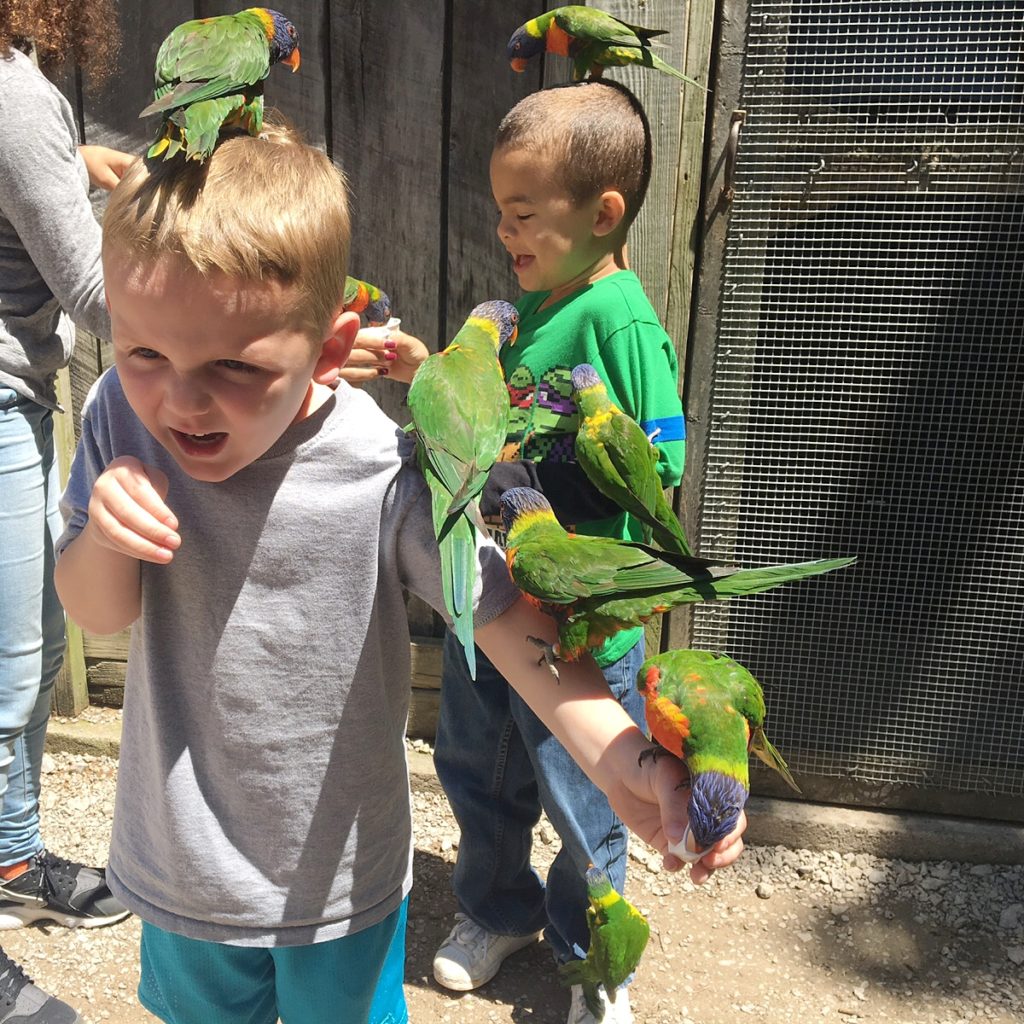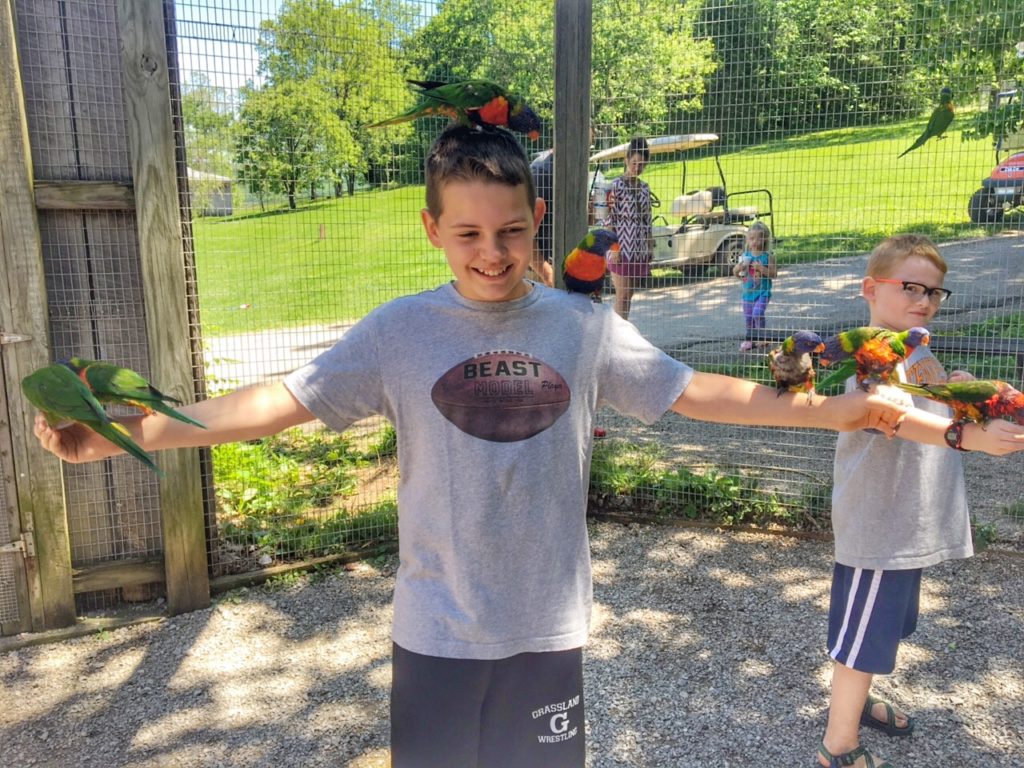 We also toured the Mammoth Onyx Cave while we were there. It was a great, short tour and especially fun for the younger kids in the group.
Kentucky Down Under was a great place to visit for a morning while we were in the area. We definitely would go back again.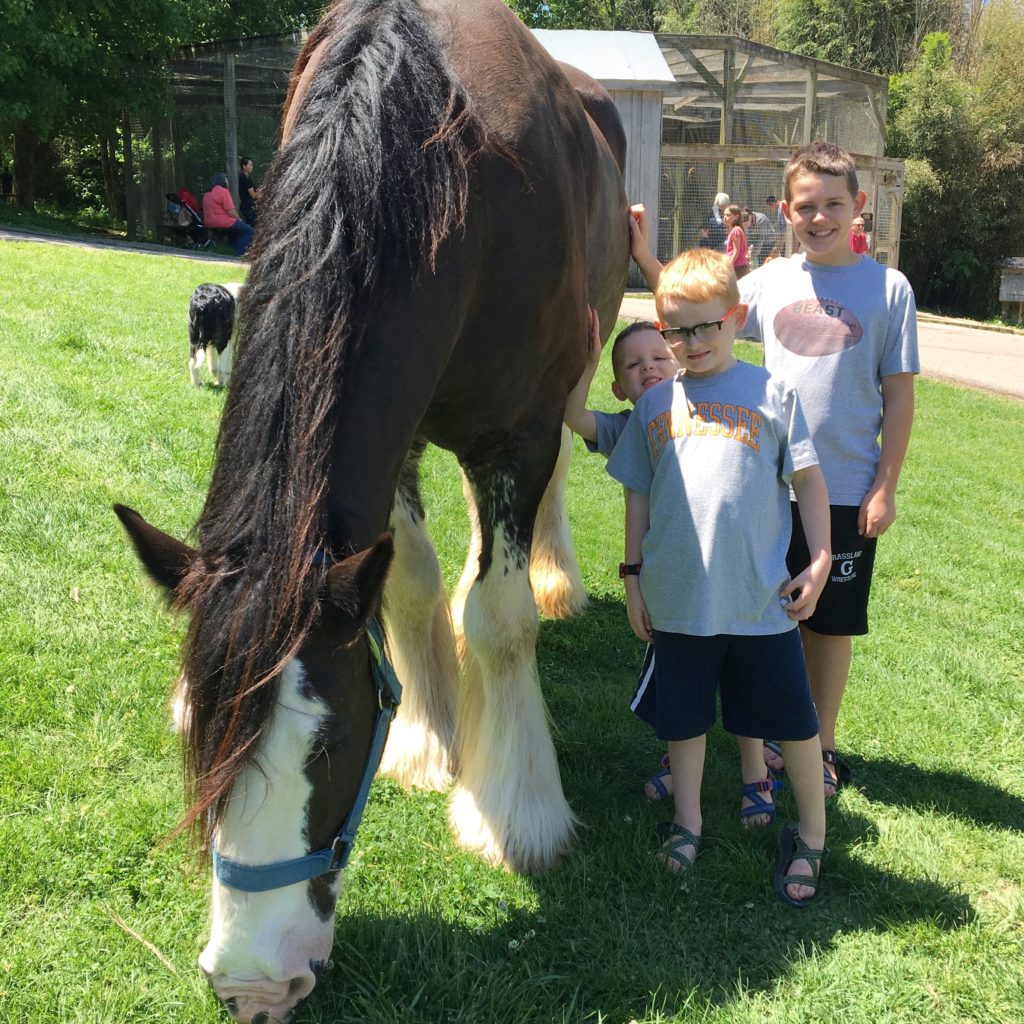 Mammoth Cave National Park:
We love visiting National Parks. While we live only an hour from Mammoth Cave, we have never visited since living in the Nashville area. I still don't understand how we went this long without visiting.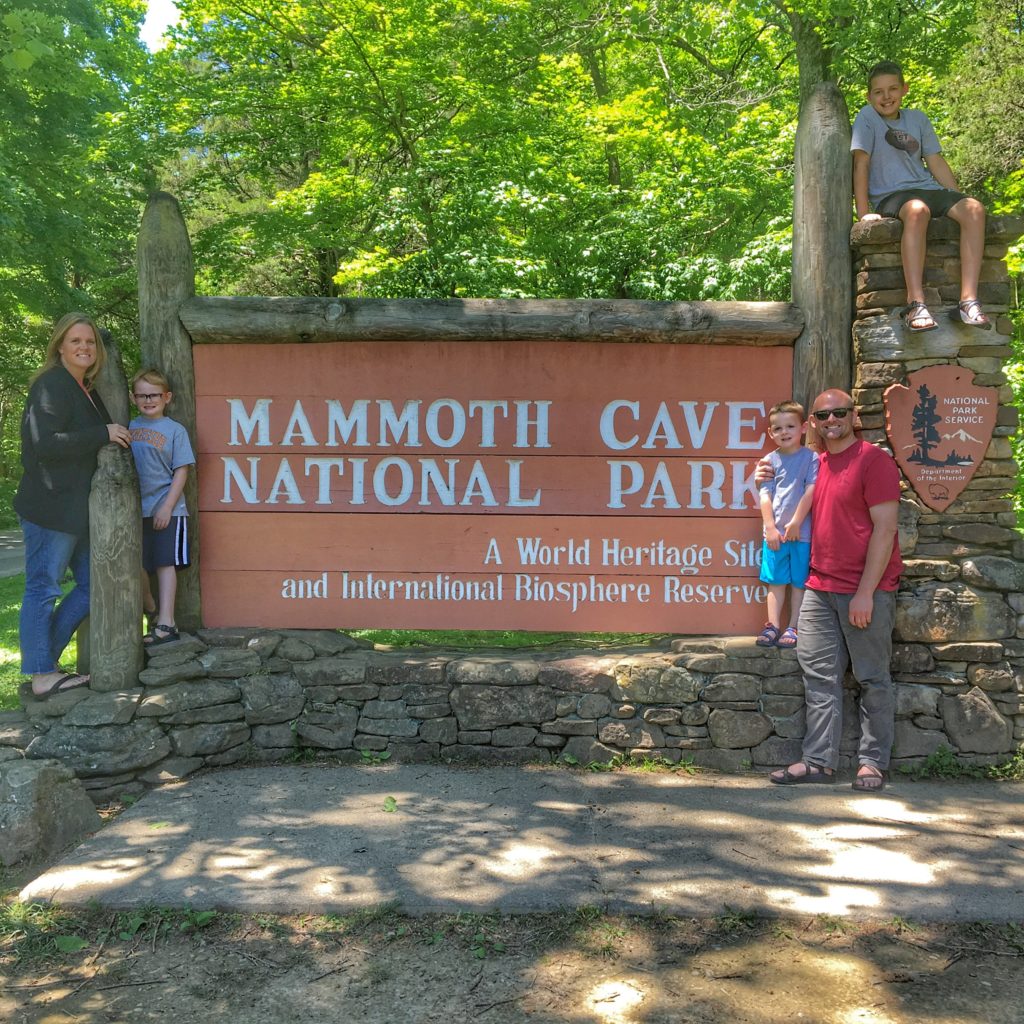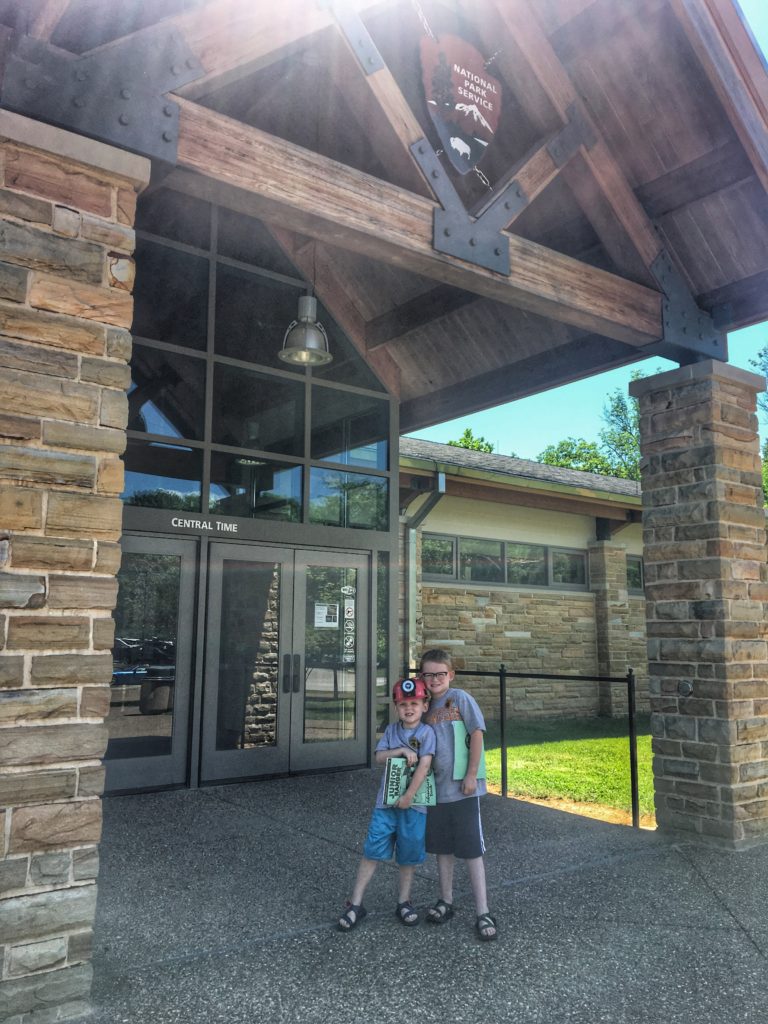 Domes and Dripstones and the Historic Tour were the two cave tours we took while visiting the National Park. We were there early one morning when the visitor center opened and purchased tickets for both tour. Our boys also completed the Junior Ranger Program – something they do at every National Park.
Historic Tour: Been in other more decorative caves, but never in Mammoth Cave? This journey through the natural entrance leads to "classic" Mammoth Cave landmarks visited by writers, scientists, military figures and celebrities of the 1800s and early 1900s. A great family trip! Portions of this tour are also seen on the Violet City Lantern, Star Chamber and Gothic Tours. It is seen in its entirety on the River Styx Tour.
Duration: 2 hours
Distance: 2 miles
Total Stairs: 440, including 155 at Mammoth Dome
Difficulty: Moderate
Price: $14 Adults, $9 Youth, $7 Special Access, $5 Educational Rate
Domes and Dripstones Tour: A wonderful complement to the Historic Tour, this trip includes a dramatic series of domes and pits, typical large trunk passageways, and a short journey through dripstone formations. This tour includes the entire Frozen Niagara Tour route and a small portion of the Grand Avenue Tour route.
Duration: 2 hours
Distance: 3/4 mile
Total Stairs: 500, including 280 on the initial staircase descent
Difficulty: Moderate
Price: $15 Adults, $10 Youth, $7.50 Special Access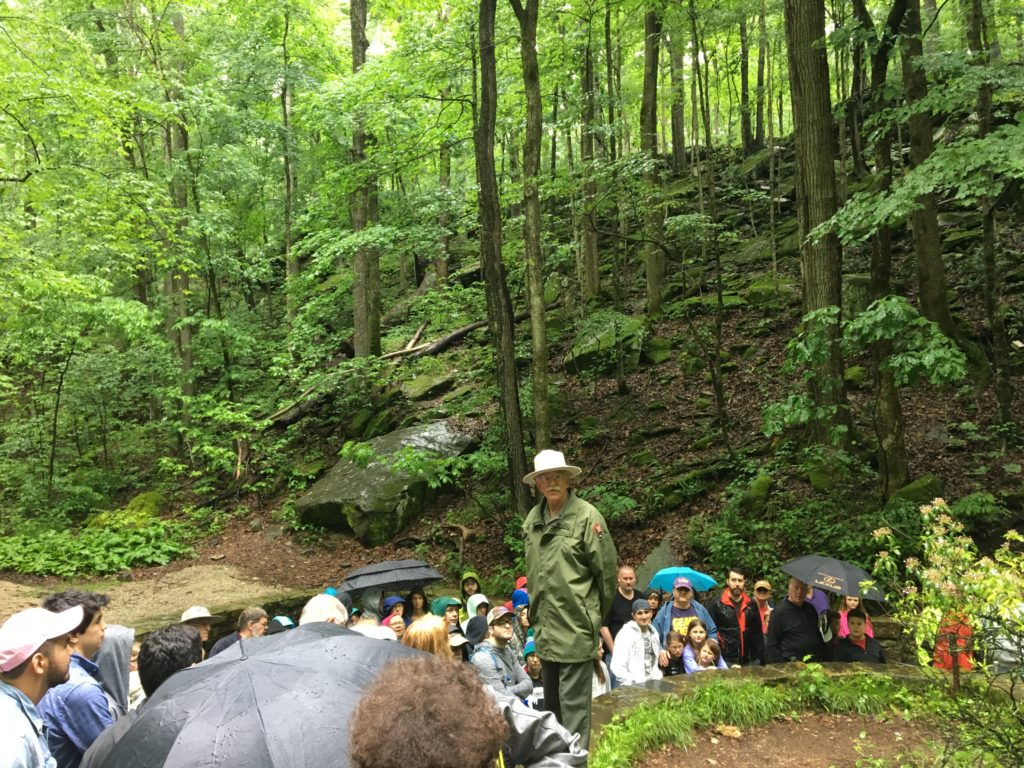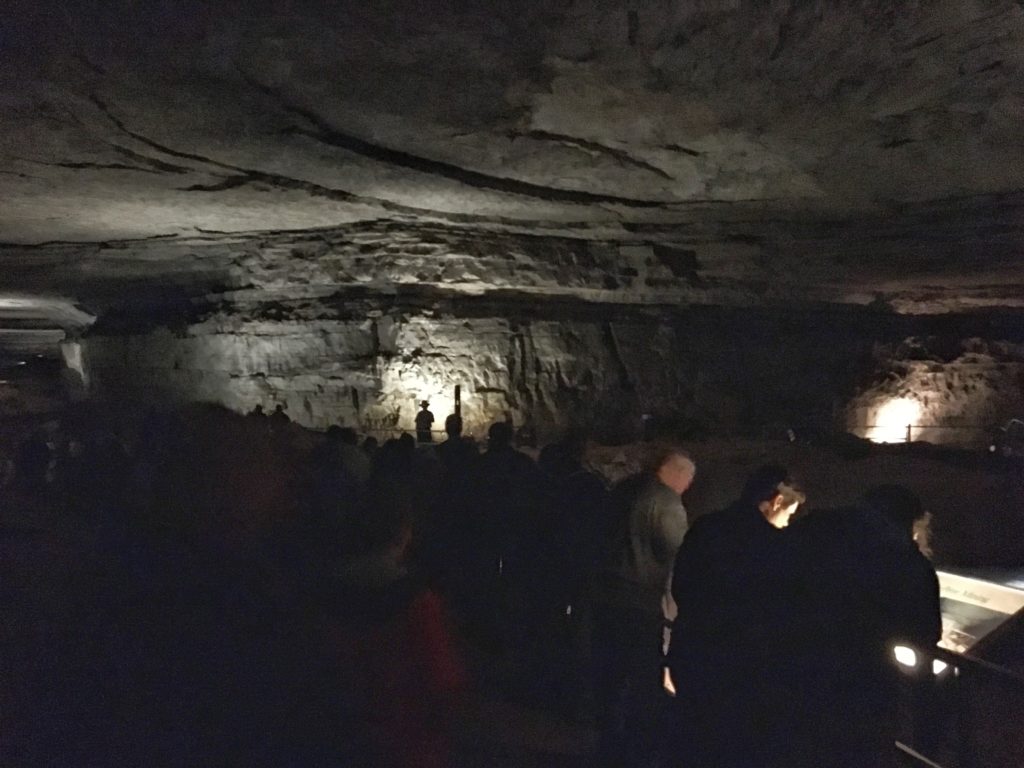 You can make your reservations online or grab your tickets when you get there. Mammoth Cave is a place we will definitely be going back to, and soon! Since we homeschool our boys, this is a great park to visit as a field trip.
Have you visited Mammoth Cave? If you've toured the caves before, which tours were your favorite?
Related posts: