Fall time on 30A. It's a favorite for our family. Where the white crystal, powder-like sand meets the Emerald Coast. There's nothing quite like it. For us, it's become a fall tradition to visit Santa Rosa Beach because we love it so much.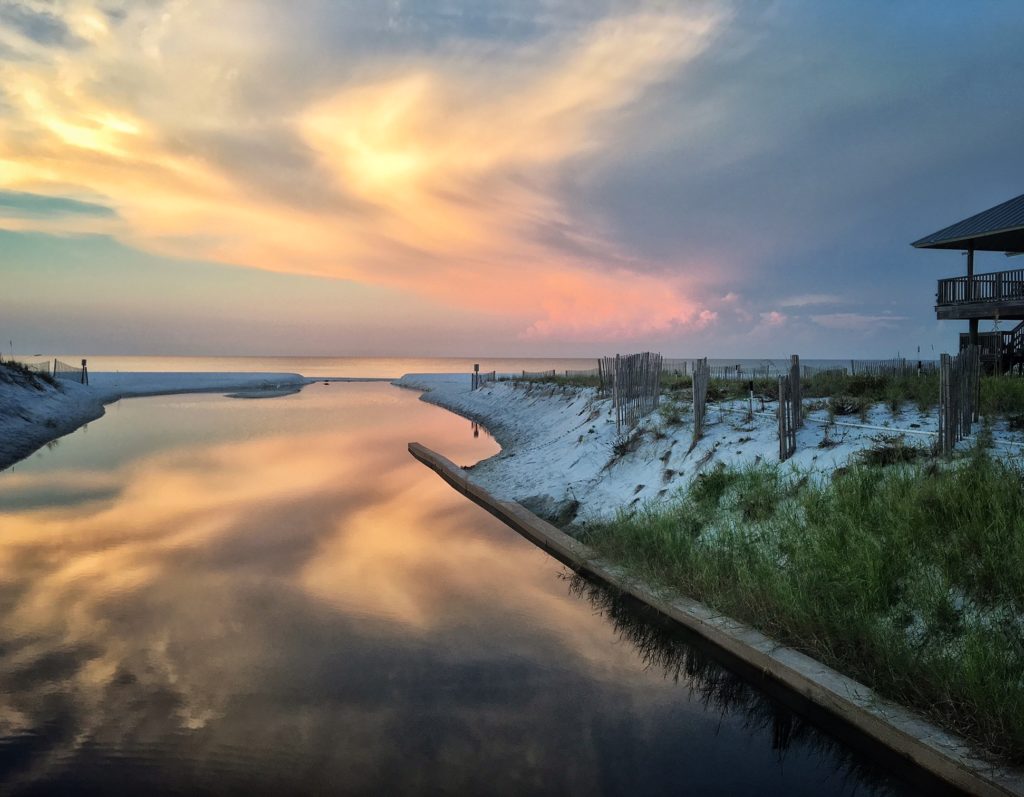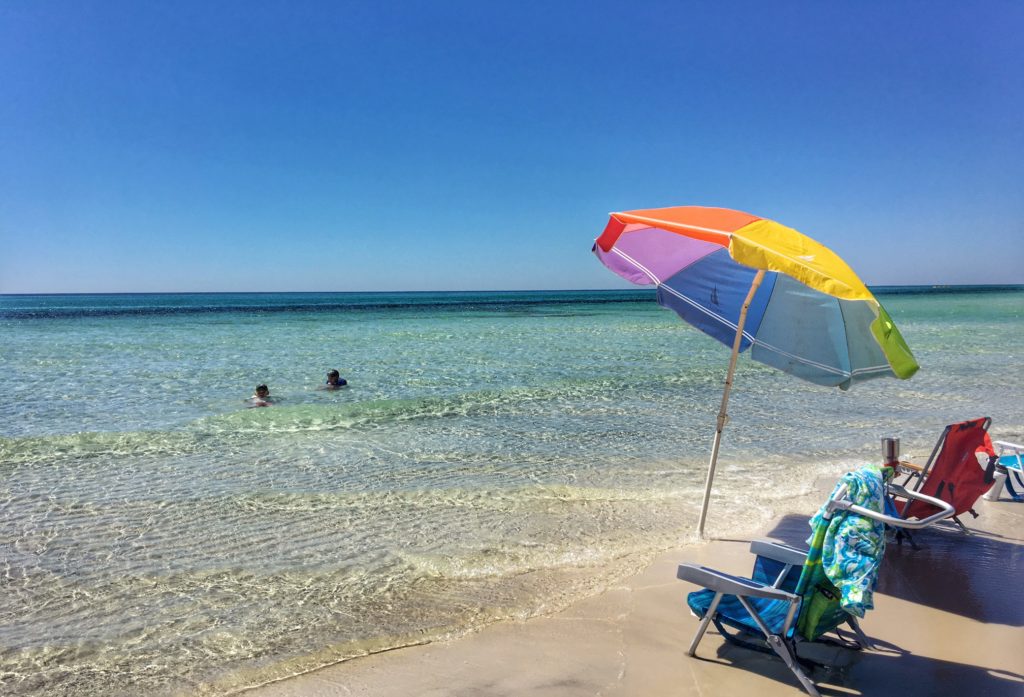 Santa Rosa Beach is by far our favorite place to visit on 30A. You don't get the business and crowded feel that Seaside and Rosemary Beach has. Santa Rosa is a laid back beach town with a family feel. There isn't any riffraff and you pretty much have the entire beach to yourself.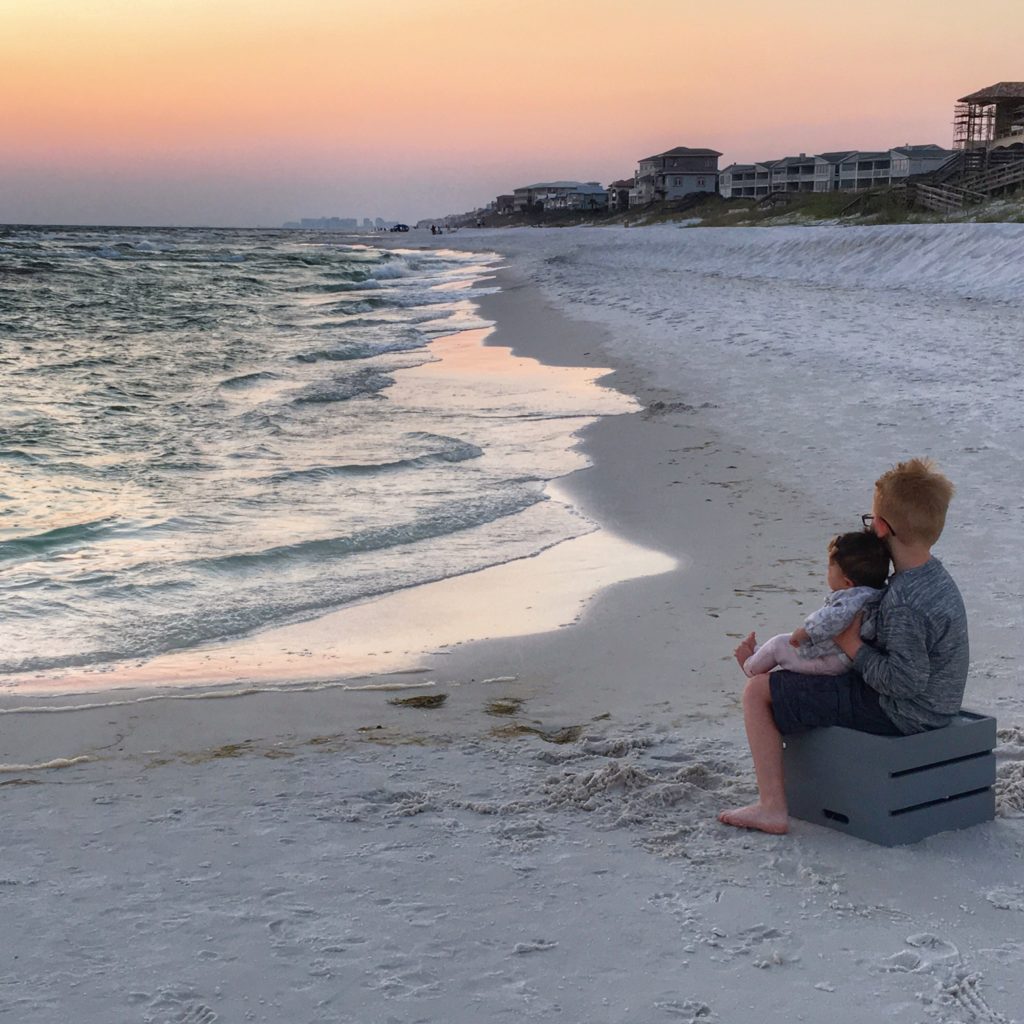 The Home
We have found the best place to stay.  Starfish and Coffee in Old Florida Village is the cutest little beach house. Old Florida Village is located right on 30A and is a quiet, little neighborhood that makes you feel like you're right at home.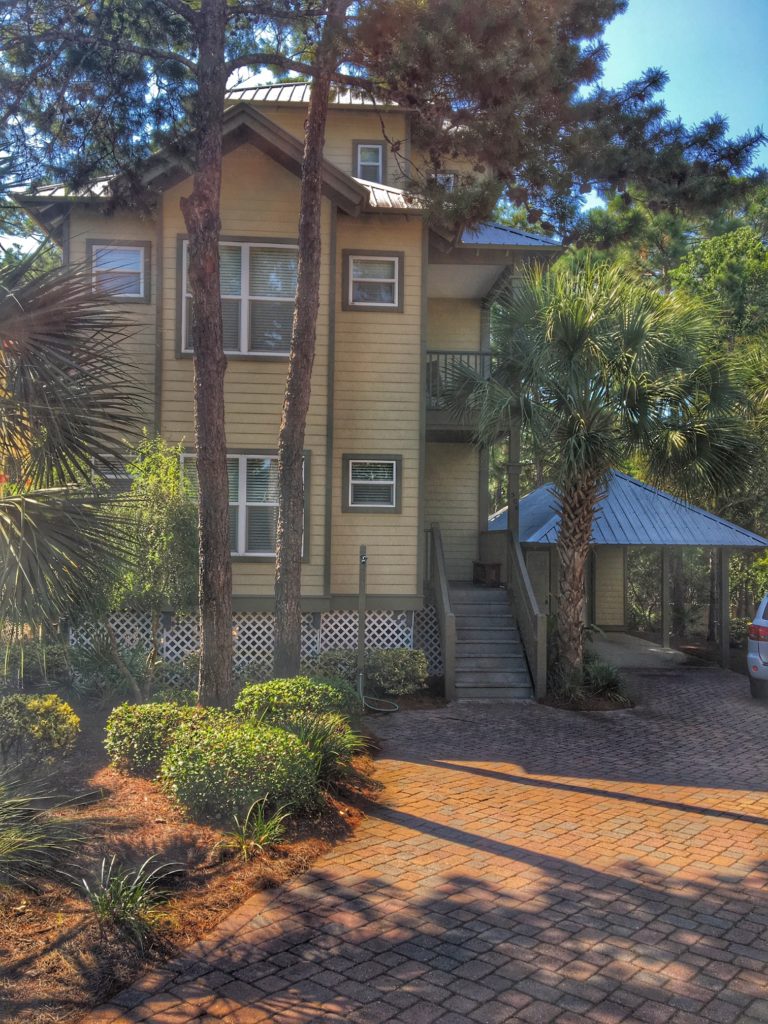 The home we had was directly across the street from the pool. So close that I could send the kids over to swim while looking out the window and seeing them. It almost felt like it was your own private pool.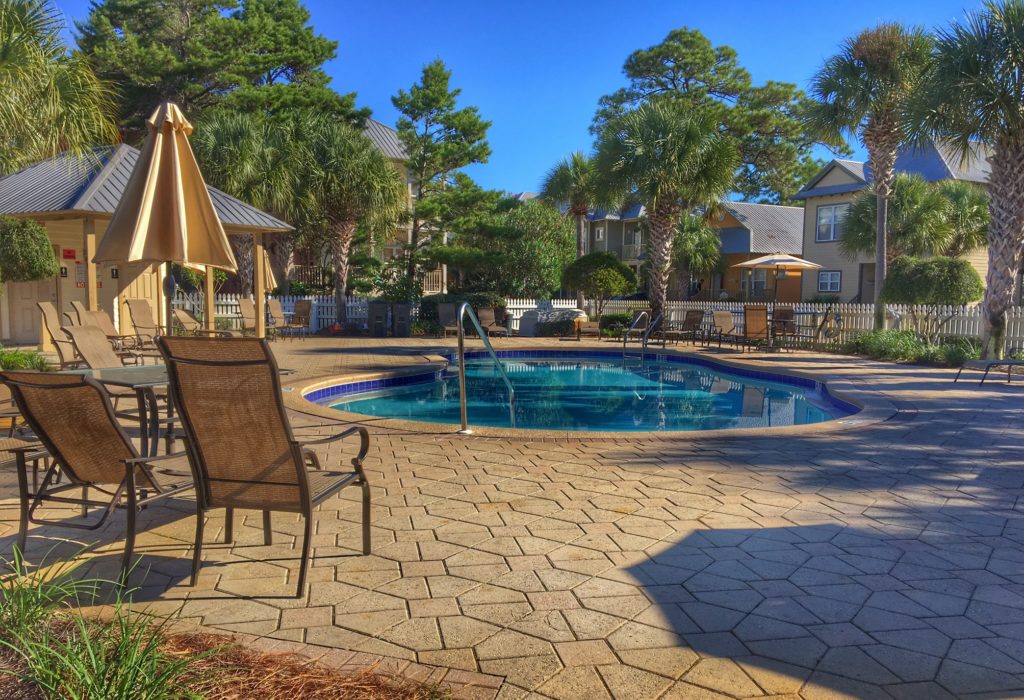 With 4 bedrooms, 3 baths, and 2,200 square feet, this house sleeps 10 and is all the room you need to vacation at the beach with your large family or several friends. There are 2 king bedrooms, 1 queen, and a tower room with two sets of bunk beds. 3 bathrooms and several porches make this home just perfect for your next getaway to Santa Rosa!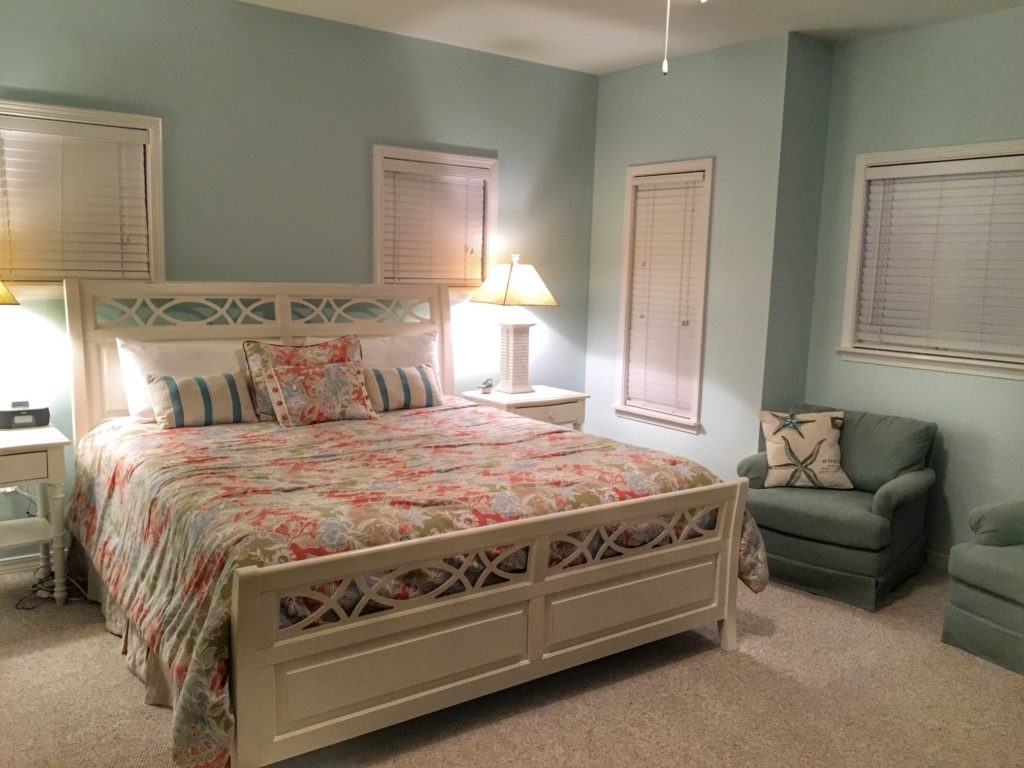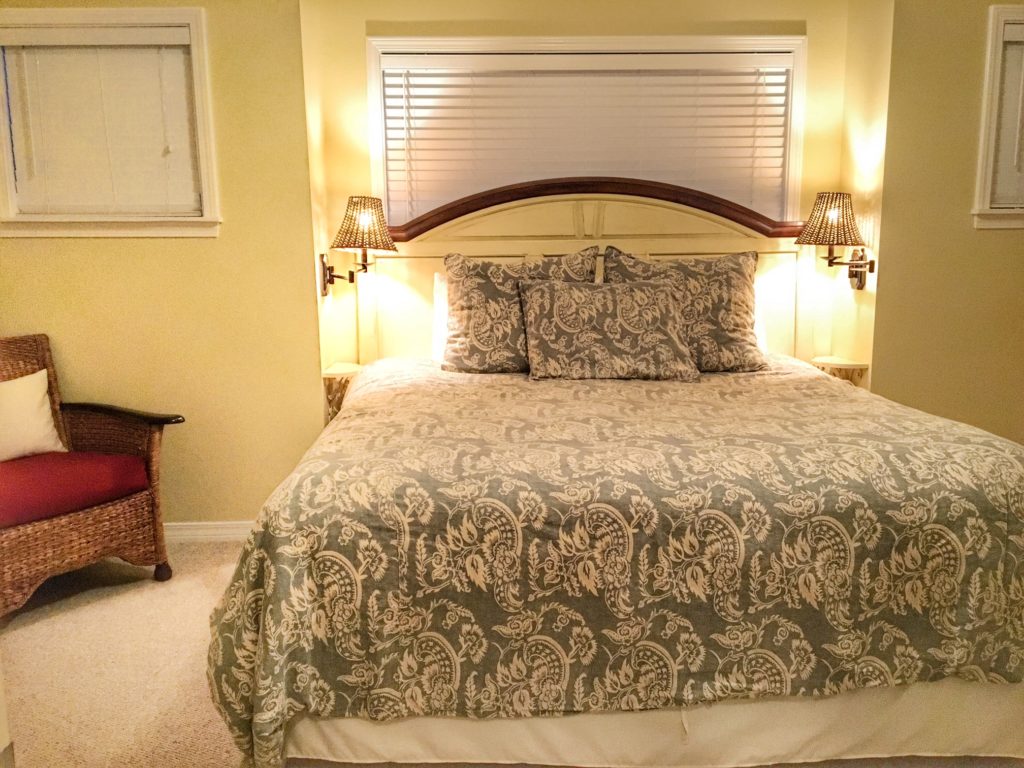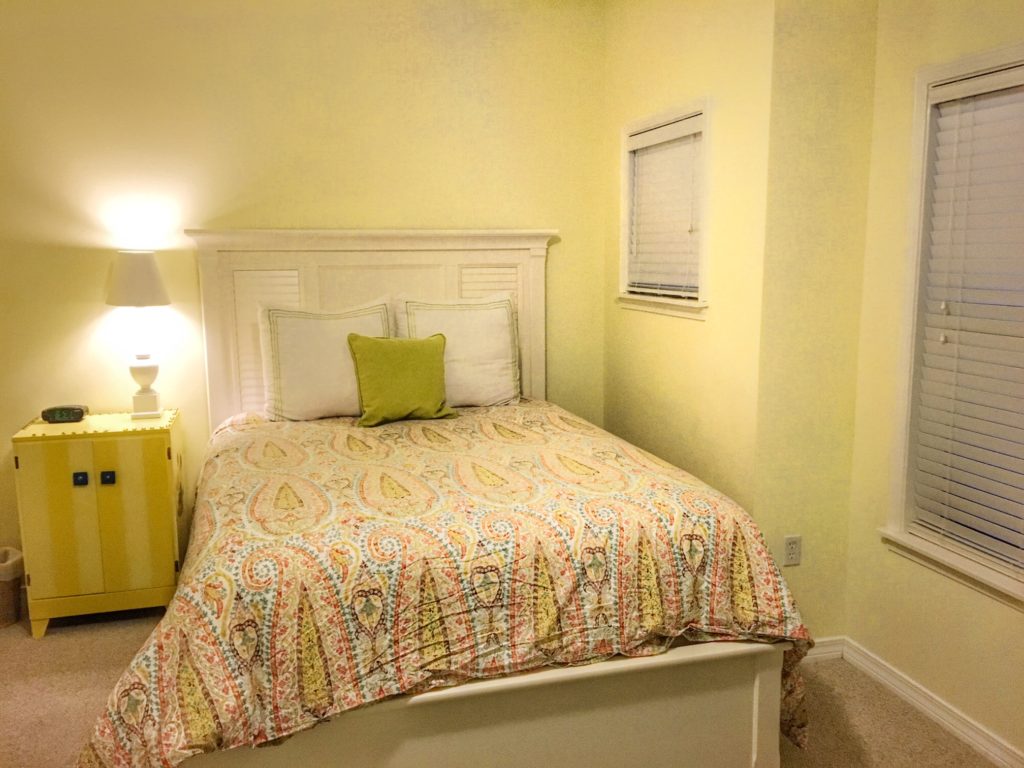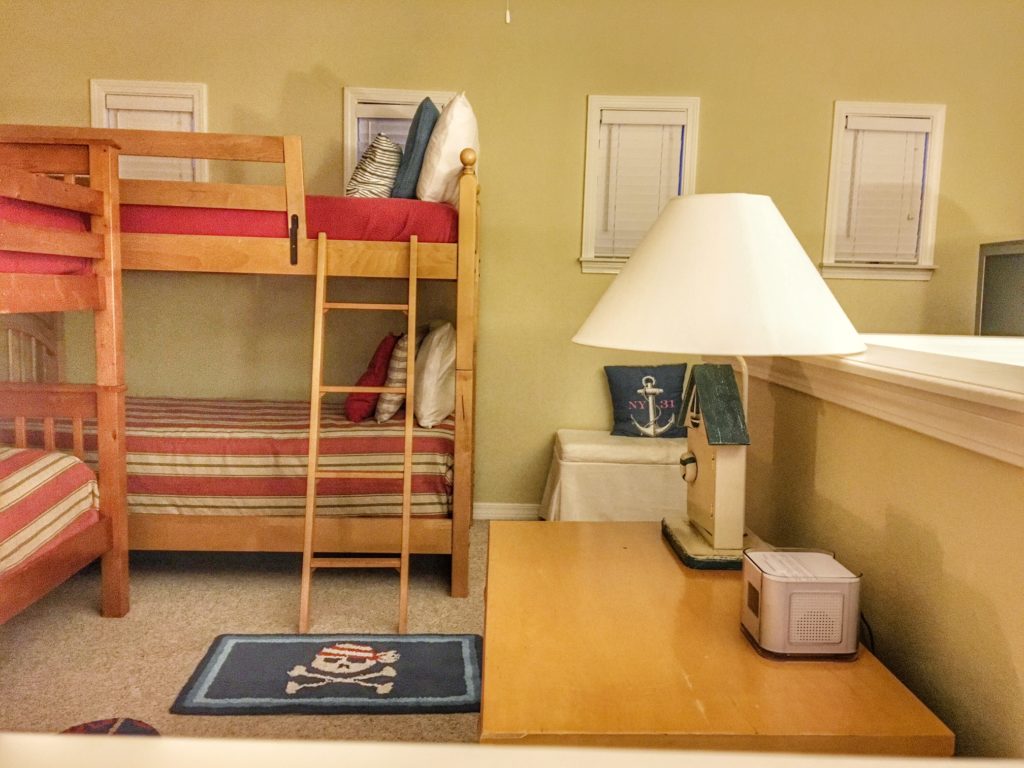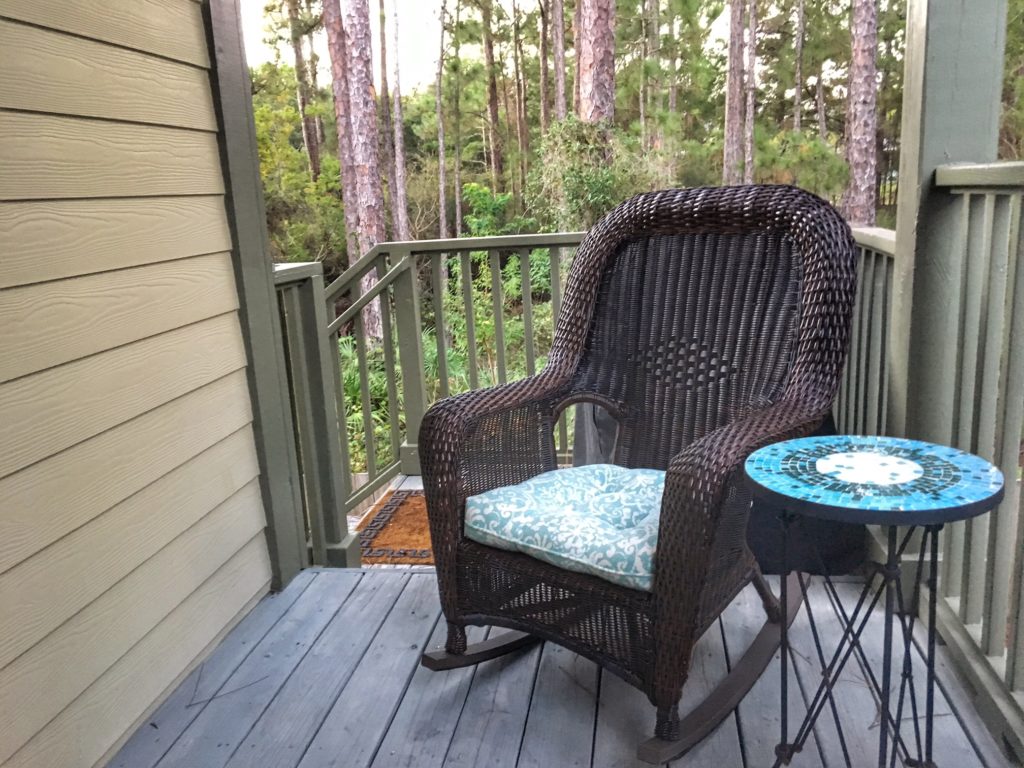 The home is already well stocked when you arrive. So many times you end up renting from places that when you arrive, they don't have a single necessity like toilet paper, paper towels, kitchen spices, kitchen appliances, etc. Starfish and Coffee is well stocked! So well, that you feel like you are in your own home. Everything is organized and put right where you can find it easily. No need to run to the store for trash bags, aluminum foil, or ziplock bags. They're already there waiting for you.
The kitchen is an open concept idea. It flows into the living area and has a full bathroom off the kitchen. In the kitchen, the smaller appliances and pots and pans are already there waiting to be used. It's so nice to rent a place on vacation that has everything you would need without racing out to the store.
When I mean this house has already thought of everything and then some, I'm not kidding. Don't want to lug your heavy pack-n-play or highchair for your child? No problem, Starfish and Coffee has one waiting for you. There are plenty of linens to change out beds, and lots of towels and beach towels for you to use.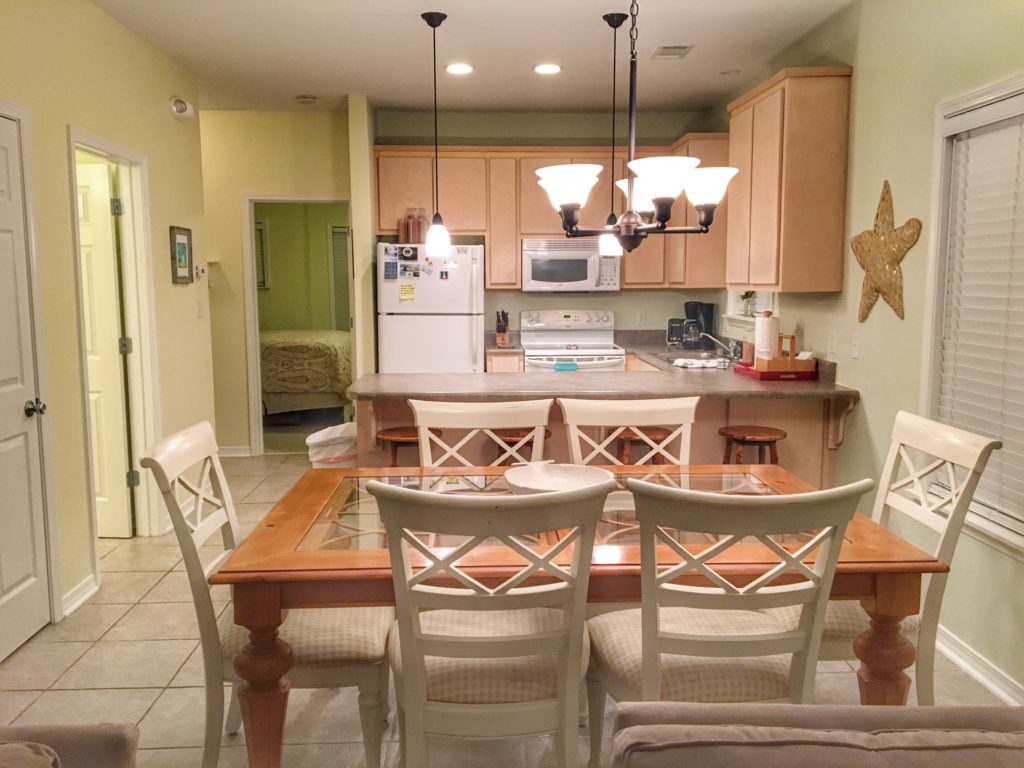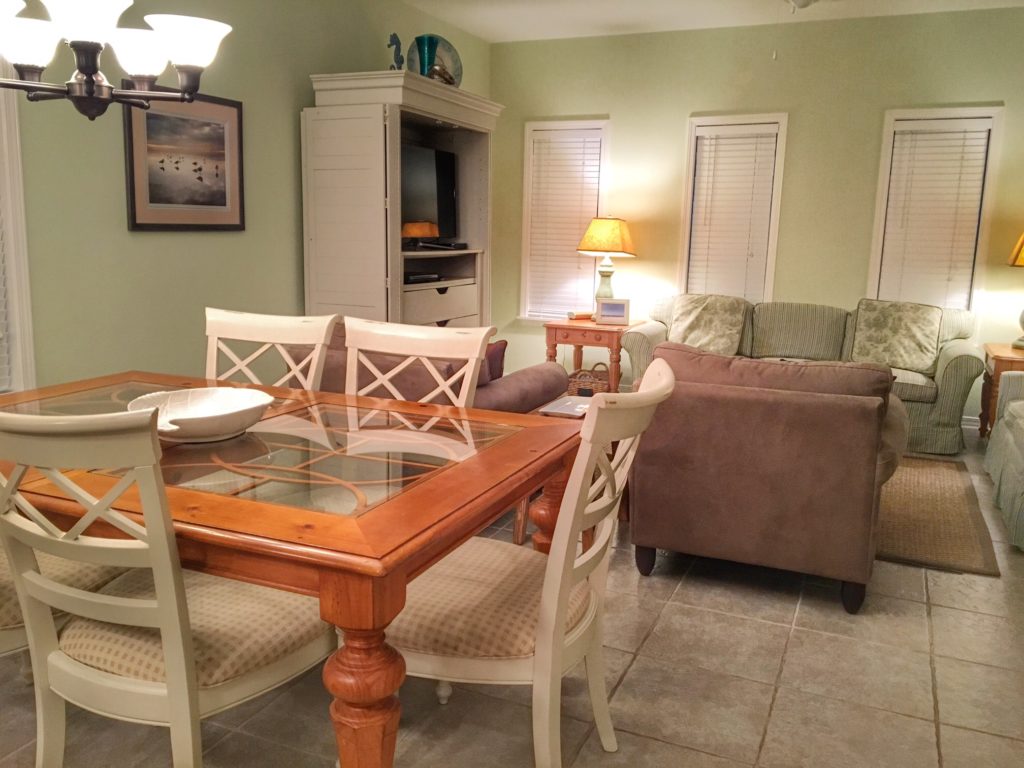 There is a covered carport area to park your car, bikes, or golf cart during your stay (more on the golf cart and bike rentals below). There's a closed in garage that is stocked FULL of things you'd need for the beach or pool. There's a stroller for the kids as well as floats, beach chairs, sand toys, beach umbrella's, and more. There's even a big metal cart to carry your beach gear to the beach with you.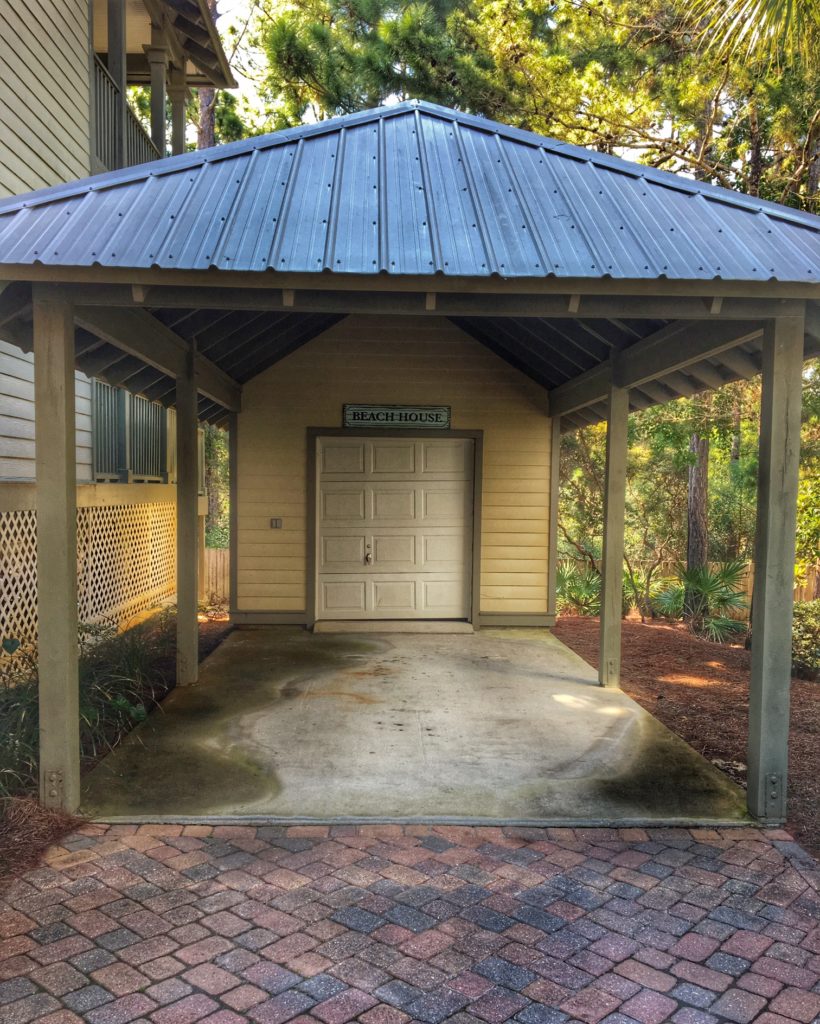 We have already said when we return to Santa Rosa in the future, we will be staying at
Starfish and Coffee in Santa Rosa Beach
. We have rented from quite a few places in the past, this is by far our favorite and one we will recommend to everyone who asks about places to stay on 30A and Santa Rosa Beach. It's our new "home away from home".
I'm excited to give you all a 10% discount on your rental from Starfish and Coffee. See for yourself why we love this place so much. Use the code starfish10 at checkout through 12/31/2018 when making your reservation.
Close to restaurants, attractions, and the beach on 30A. This home has it all and we give it a 2 thumbs up!
The Neighborhood
A quaint neighborhood of 75 cottage-style homes on a quiet loop just a few yards north of 30A and the beach. Starfish & Coffee is toward the front of the neighborhood, making it just a short walk (about 10 minutes) to the beach, or a quick bike or golf cart ride of 2 minutes.
There are two pools in the neighborhood. One is directly across the street from the home (it's so close, you're able to look out your window at your kids swimming) and the other is just a quick walk down the street. Both are very quiet and are a good size.
The Rainy Day
It doesn't happen much, but when you do have a rainy day at the beach, you need things to do so you don't drive each other crazy sitting inside all day. This year, we discovered Uncle Buck's FishBowl in Destin and had the best time.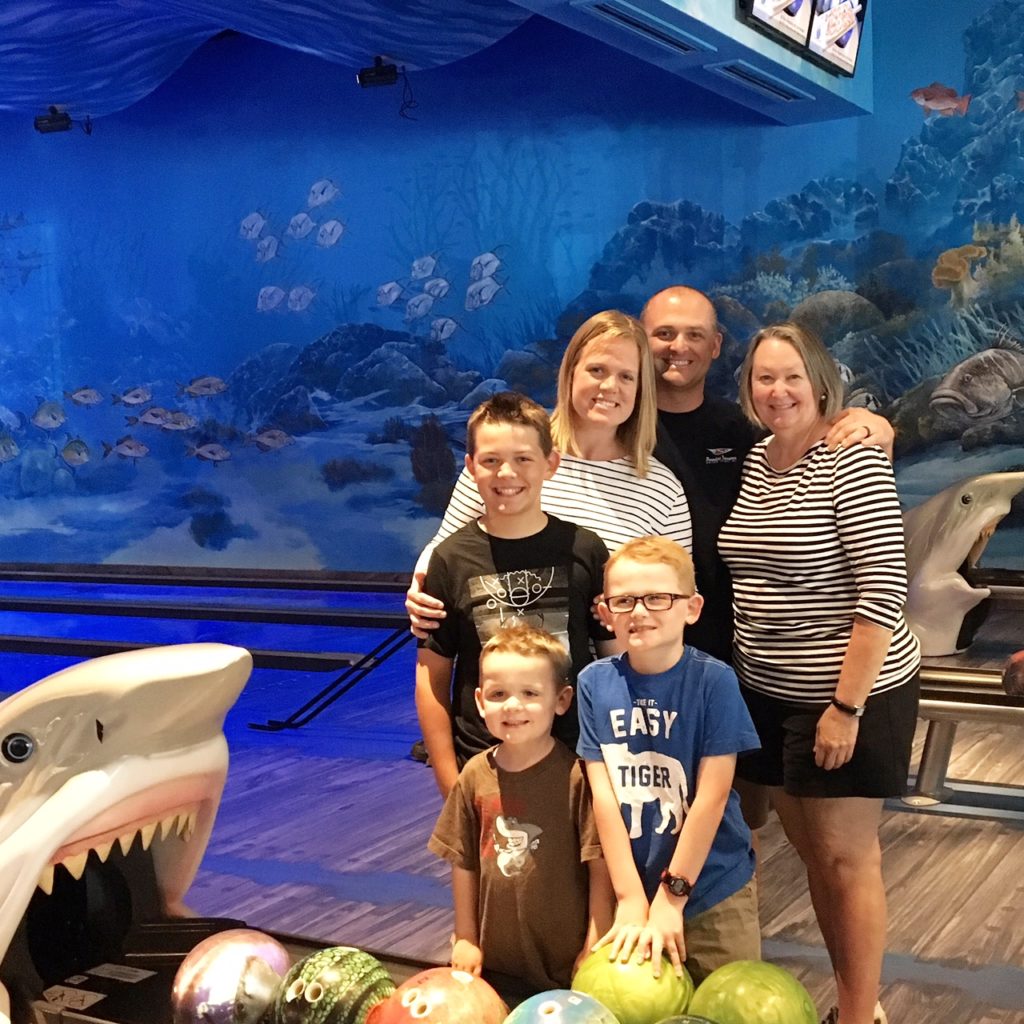 16 full lanes of bowling that offer a unique underwater ocean experience! Custom bowling balls that bear the likeness of octopus, mermaids, camouflage and more! "Dock" wooden lanes feature underwater scenery of sea turtles, sharks, stingrays and other saltwater species! Handpainted murals and fish hanging from the ceiling bring everything together for a deep sea dive like no other. You have to see it to believe it!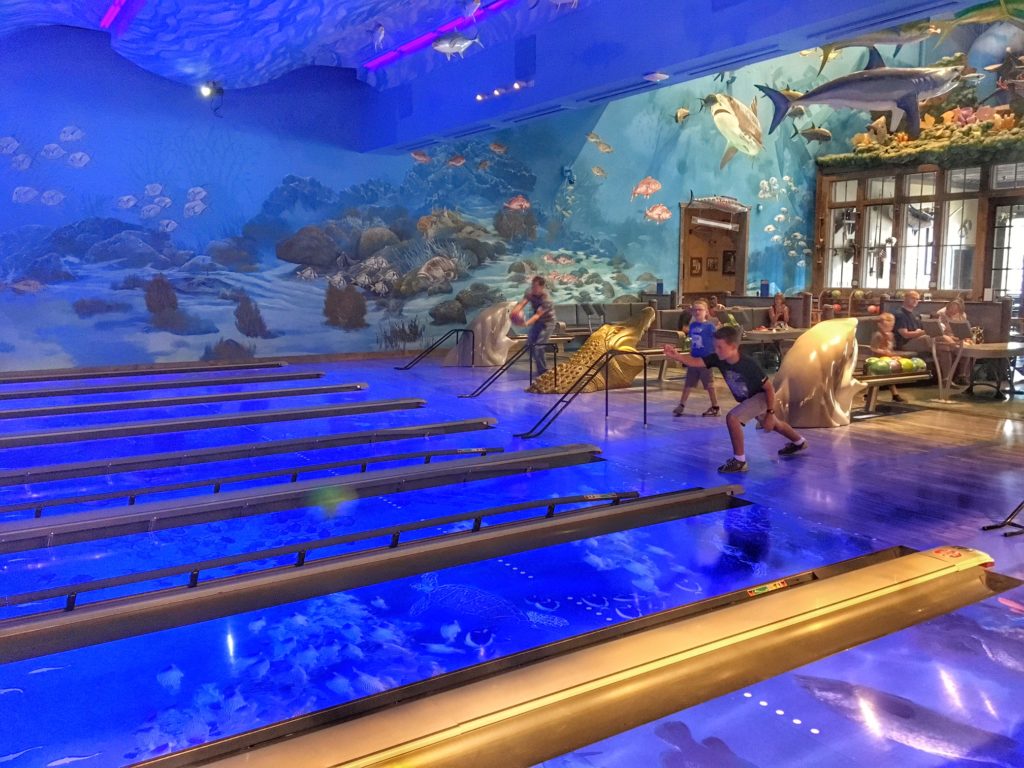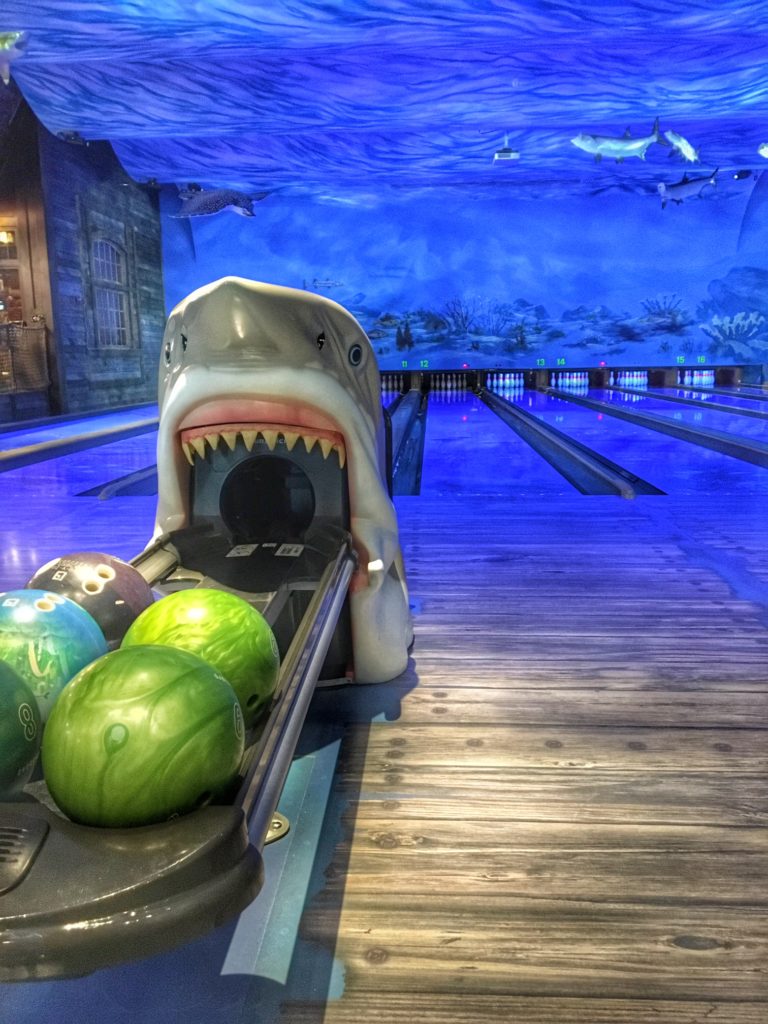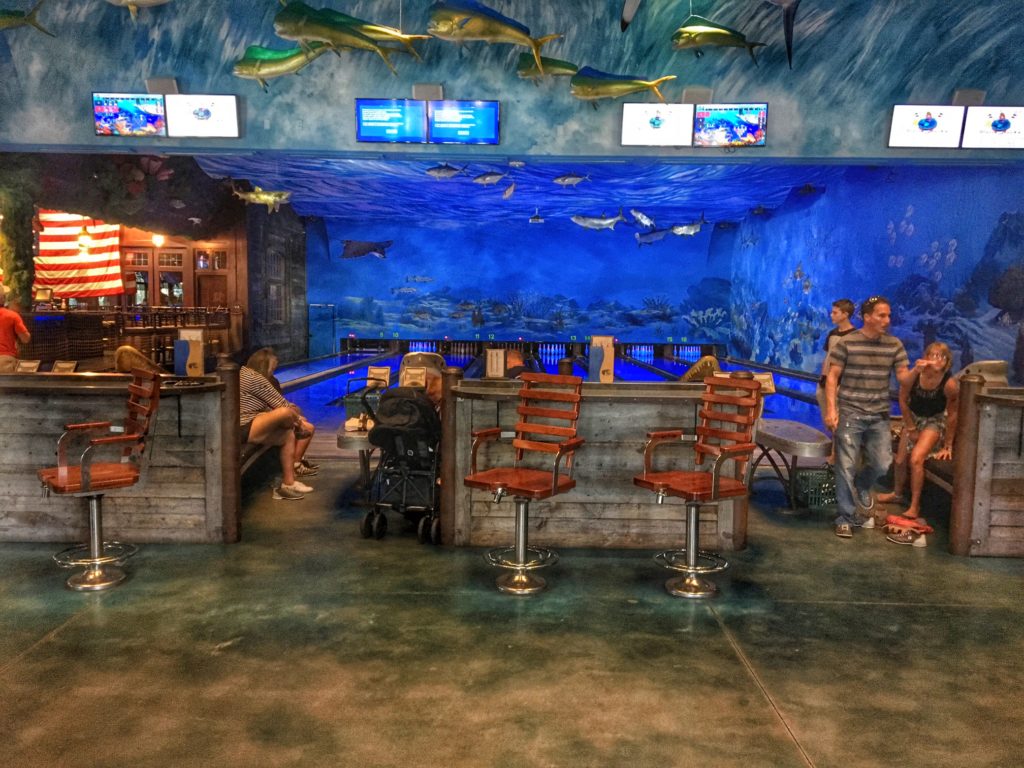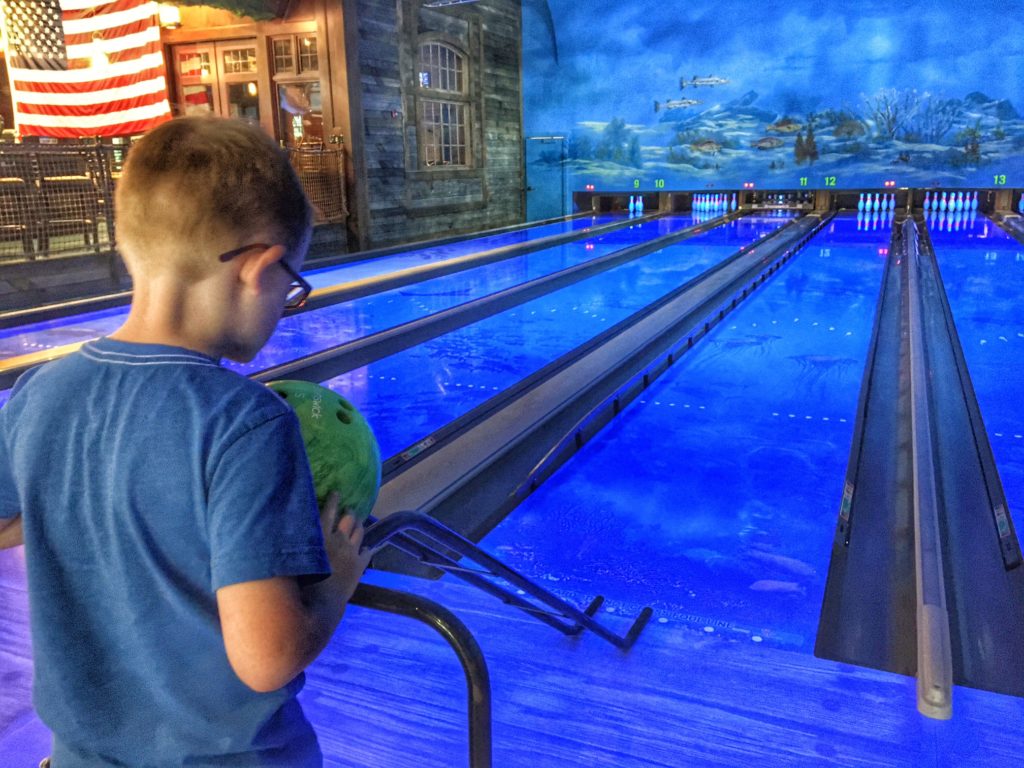 Our crew had so much fun bowling at Uncle Buck's Fish Bowl. It's definitely something you need to do on your rainy day at the beach.
Some other rainy day ideas:
Find a blanket, a book, and a covered porch
Ride around and check out neighborhoods on 30A
Walk the beach and look for shells
The Way to Get Around 30A:
It's not hard to miss all the golf carts and bikes on 30A. It's the way to get around. We had a chance to have both bikes and a golf cart during our stay on 30A and were so glad we had them!
Our bikes were rented from Live Well 30A. The entire 30A community is extremely bike friendly. Most of 30A has a bike path. No better way to experience the beach, the sunshine, and beautiful 30A than on a bike. We had 2 adult bikes, and 3 bikes for our boys.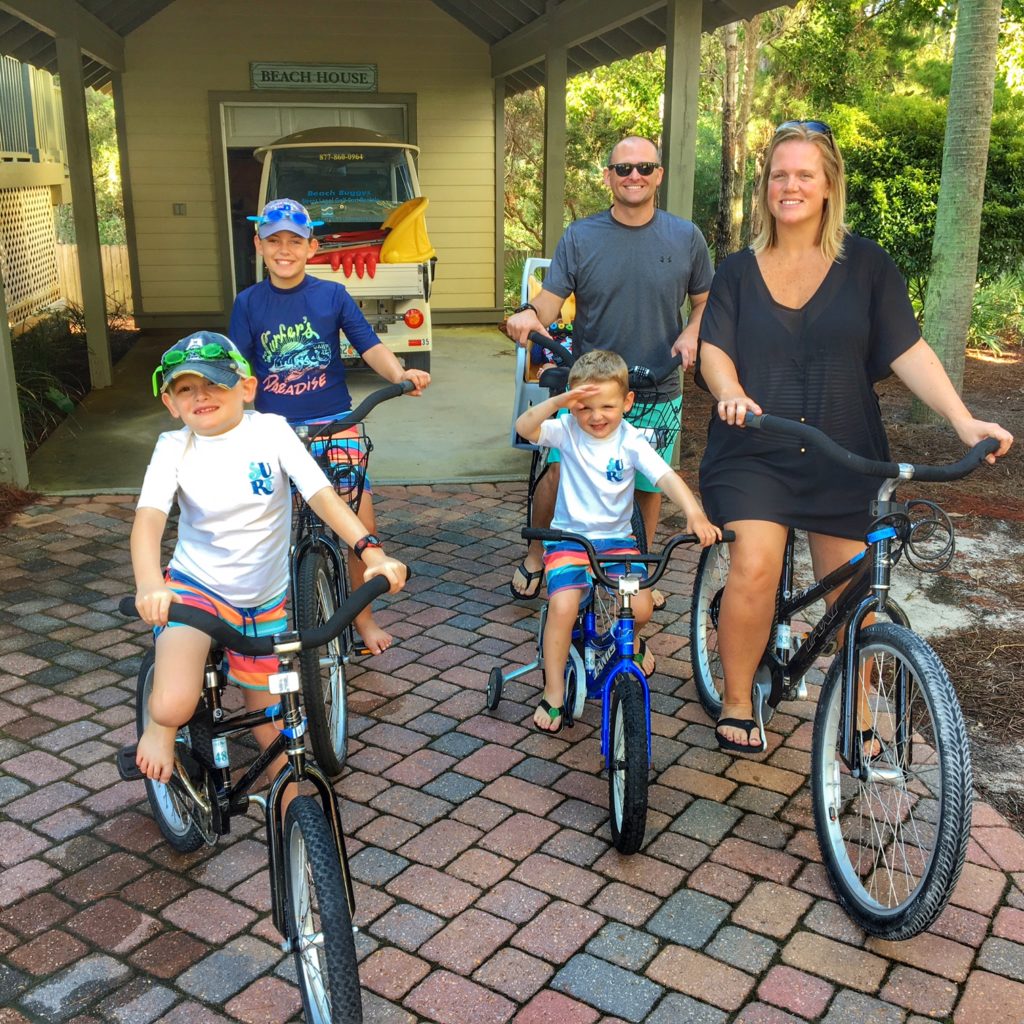 One of my favorite memories from our trip was seeing my husband ride around with our Little Miss on the back of his bike. It doesn't get much cuter I don't think and what a special memory to have.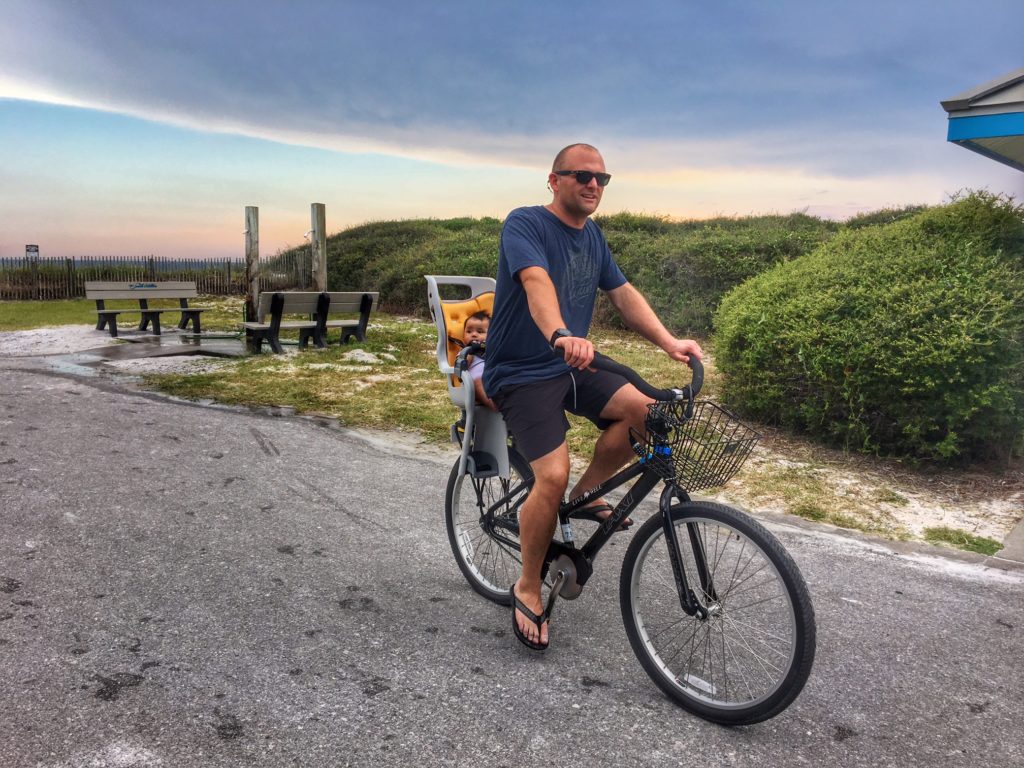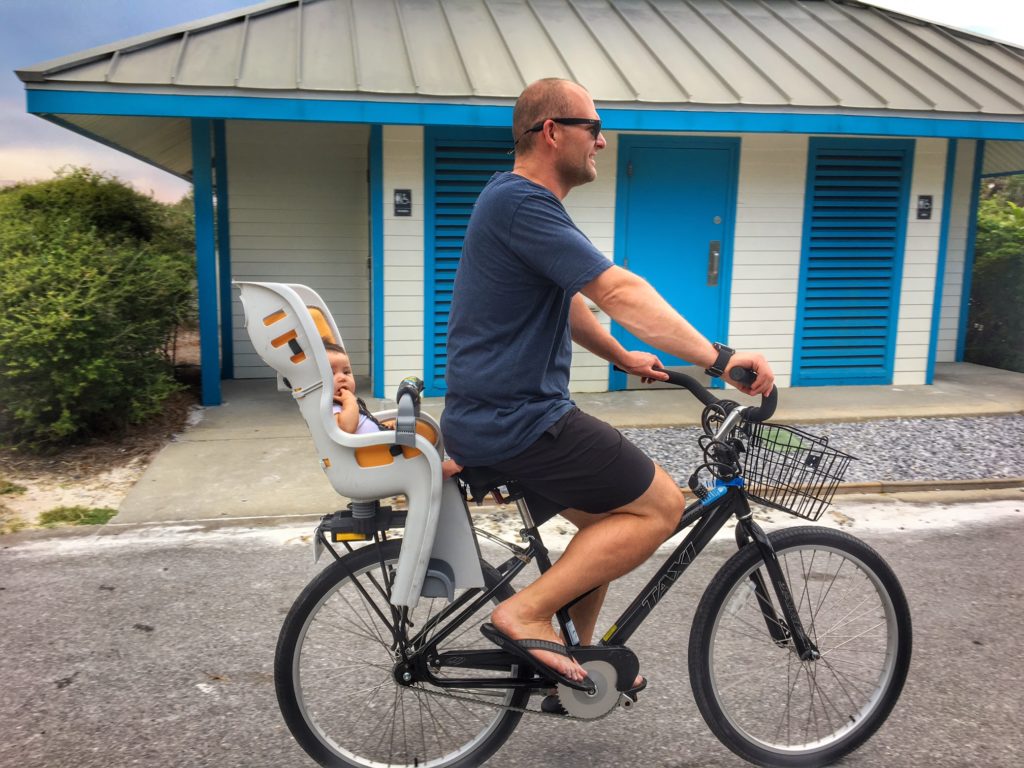 My boys would wake up and ride their bikes around Old Florida Village neighborhood and stay out until it was time to head to the beach. Then, a bike ride to the beach each morning was in order. In the evening, they were still riding bikes. A family bike ride down 30A was just perfect. This was our first time renting bikes while visiting 30A, and I can say it won't be our last.
Our experience with Live Well 30A was perfect! The bikes were dropped off on the morning we arrived and they picked them up the day we left. Live Well 30A was so easy to work with in making the reservation and they answered all the questions we had.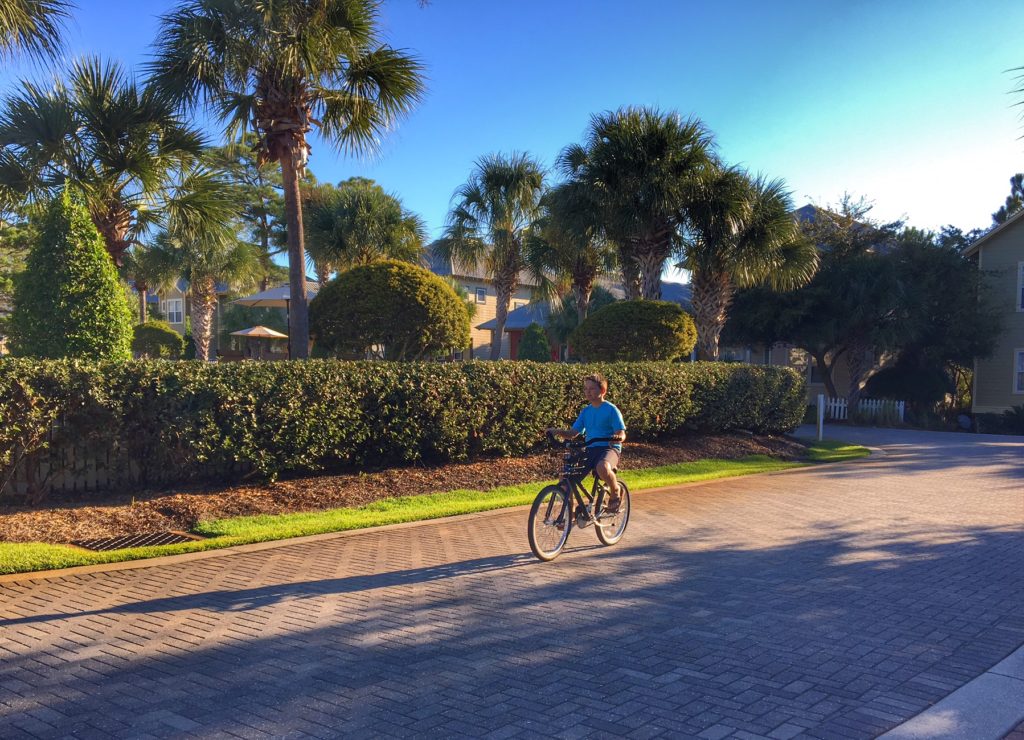 Not only do they have bike rentals, but they also offer beach bonfires, beach chairs, games, catering, beach weddings, fishing trips, grocery delivery, and more!
We also had a golf cart rental during our stay on 30A. What a fun and convenient way to get around! Need a quick ride to the beach but don't want to get your car full of sand? The golf cart is the way to go.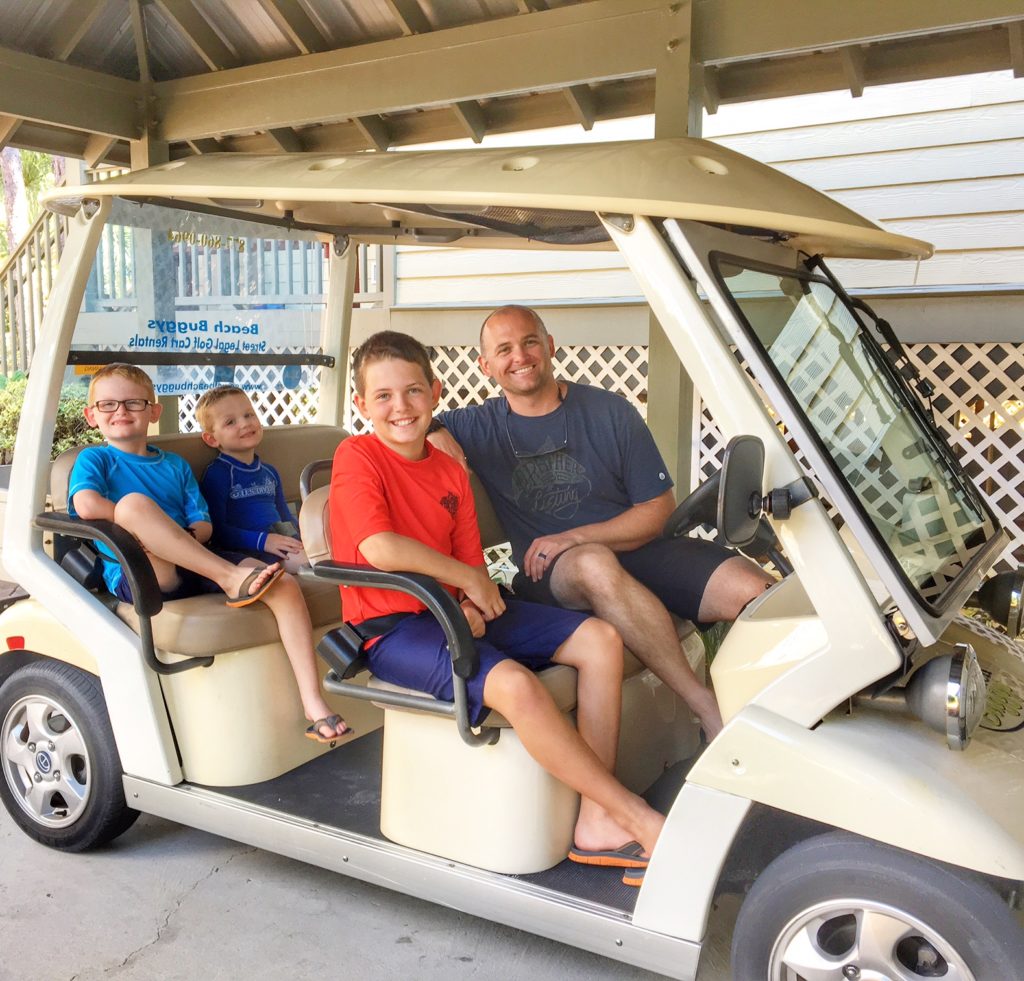 Our golf cart rental was through SoWal Beach Buggy's and we had such a great experience! These golf carts are street legal and make riding around 30A so much fun! We took it to the beach everyday which was so nice to have. The cart we had allowed 6 people to ride and had a bed in the back for beach gear.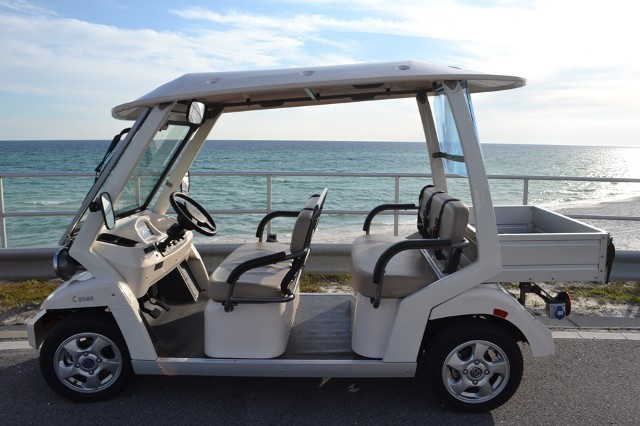 We also took the golf cart to get ice cream at night at our favorite Blue Mountain Beach Creamery. Such a fun and festive beach outing, especially in the golf cart.
From the beginning when we made the reservation with SoWal Beach Buggy's, through the end of the trip, they were so easy to work with and answered all our questions we had. The cart was there when we arrived at our rental, and was picked up the day we left. Talk about convenience!
There are quite a few different options of carts to choose from. Our 6 passenger golf cart was just perfect for our family of 5.
Of course our boys thought having the golf cart was a blast (let's not kid ourselves, so did we, the parents) and is already talking about getting a golf cart for our next trip to 30A.
SoWal Beach Buggy's also has other rental services available. Check out their kayak, Yolo boards, beach bonfire, or fishing trips, also.
The Places to Eat
There are SO many good places to eat on 30A. Ask anyone who has been what their favorite restaurant is and you'll get lots of different answers because there are so many great places. Here are just a few that we highly recommend:
Santa Rosa Beach is a special place to our family where we've already created many memories and have many more to make in the future. Long days on the beach, fall sunsets from the white, powdery sand. The fresh seafood and small town atmosphere. We just can't get enough.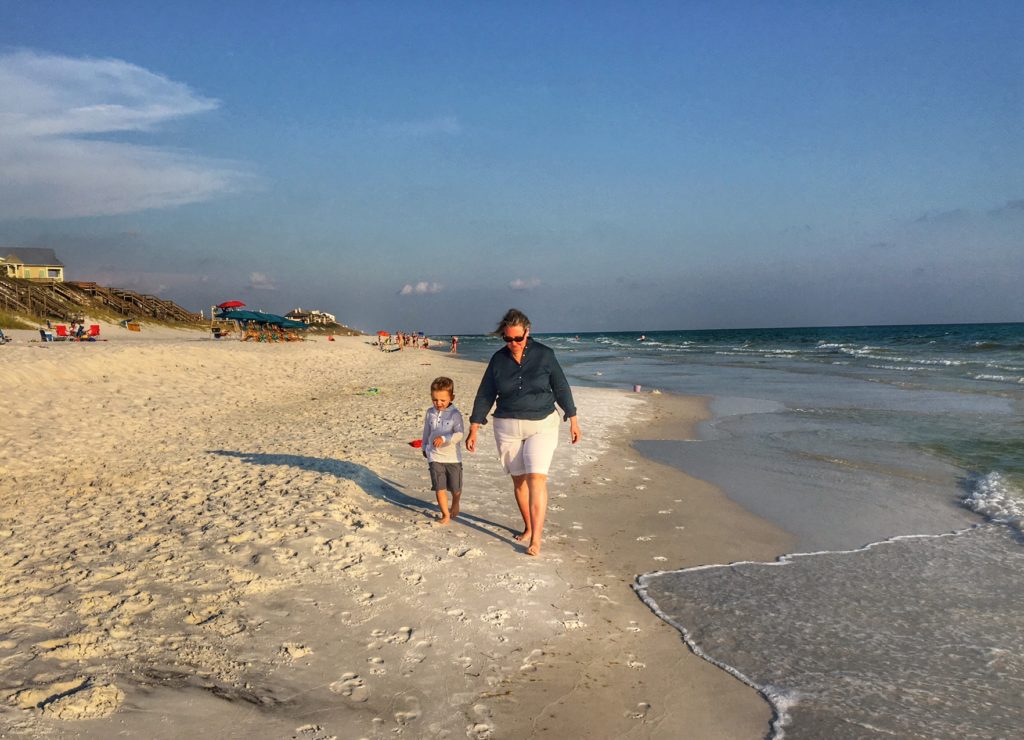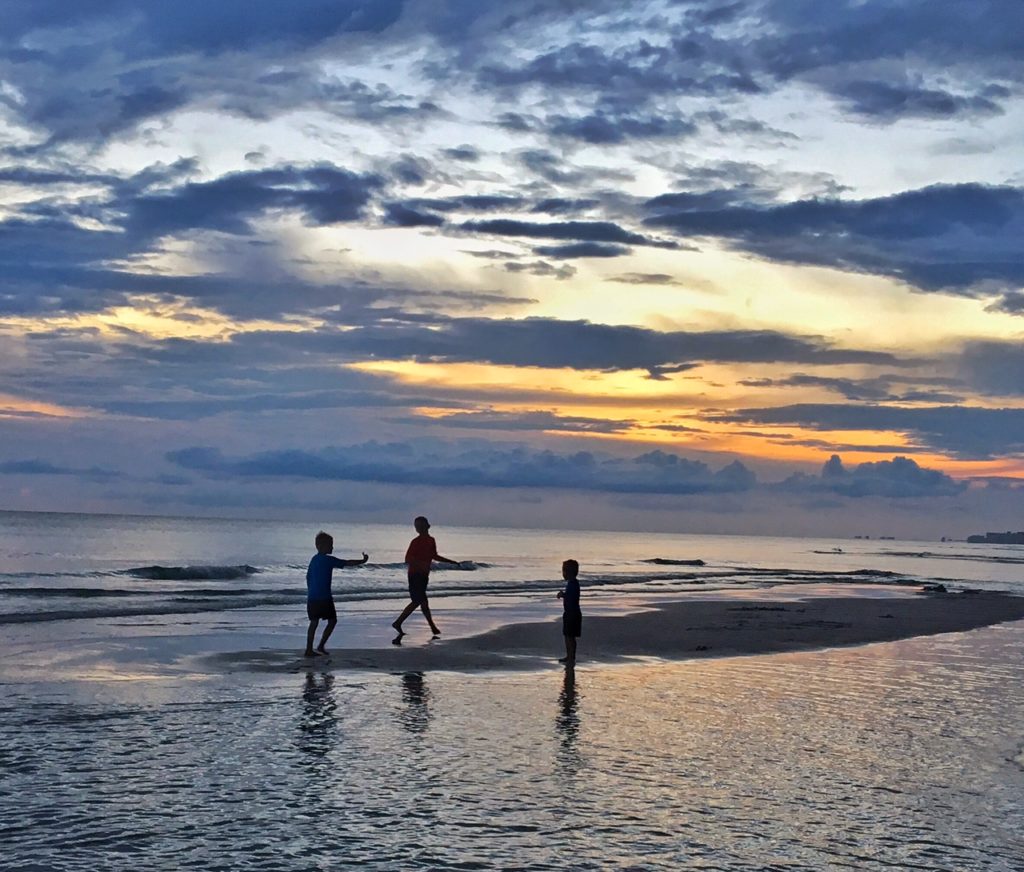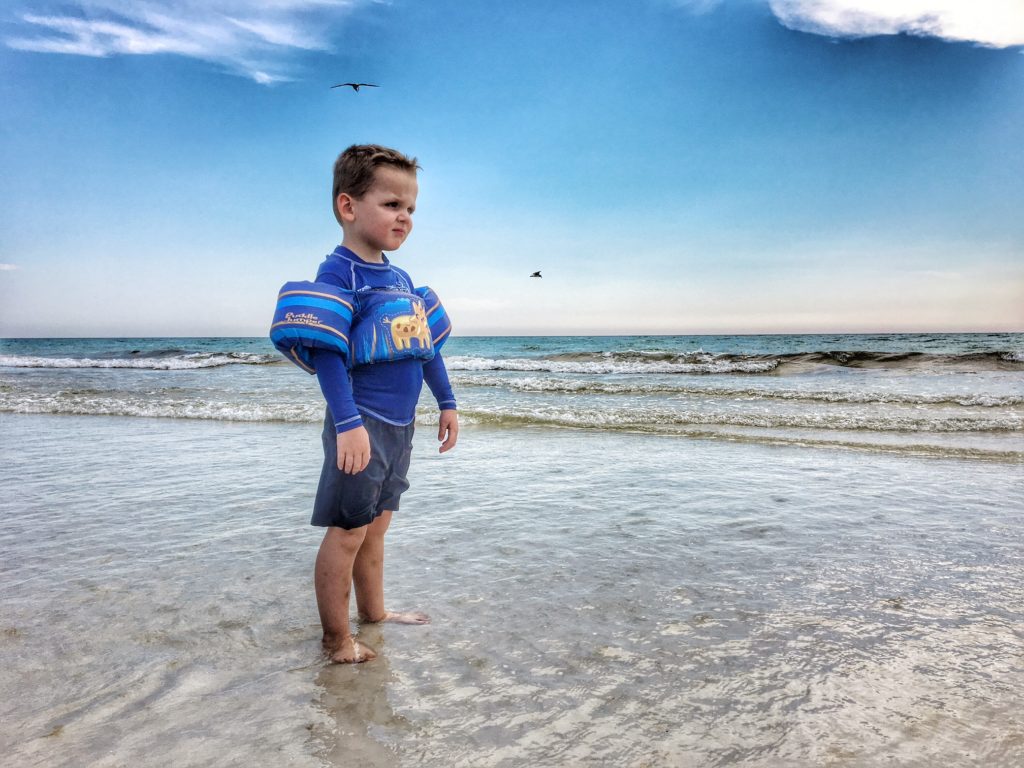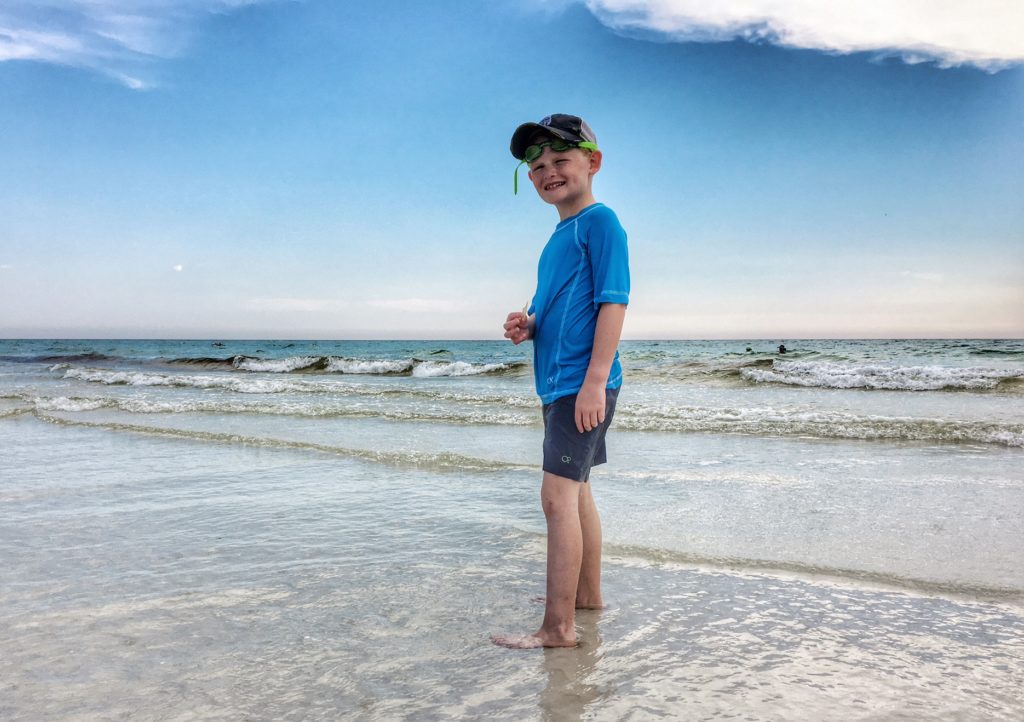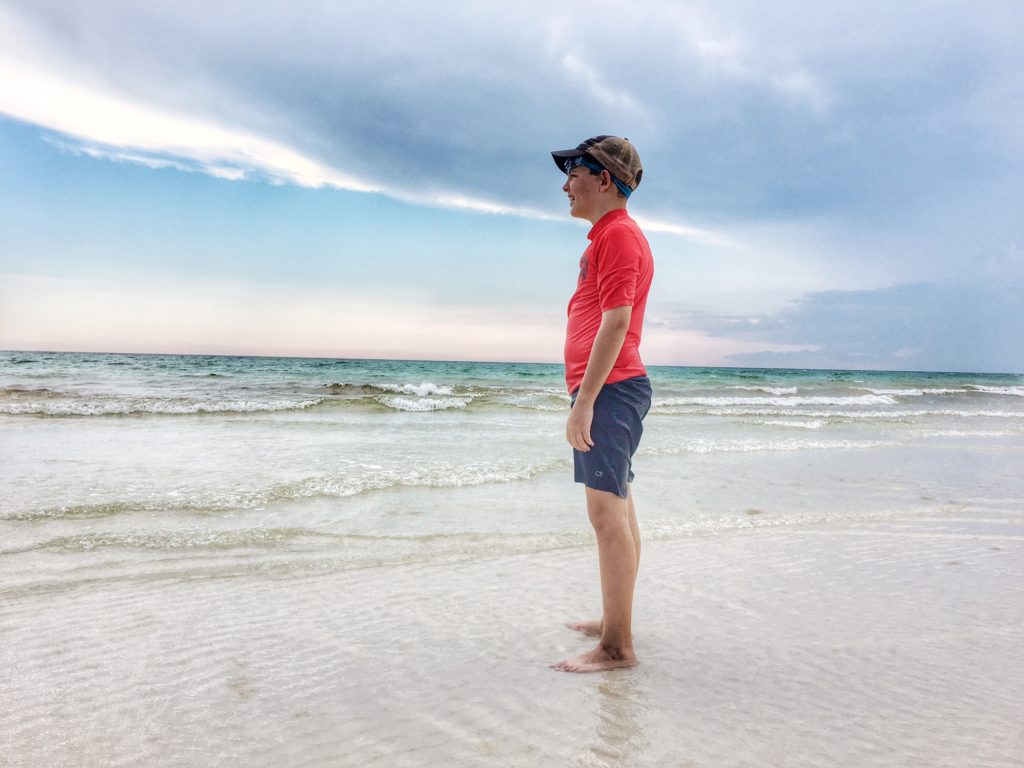 If you need help planning your next family vacation, I'd love to help you plan a trip to Santa Rosa Beach, Florida on 30A. I promise it will be one of the best, if not the best vacation your family has had.
Related posts: